March 10, 2022
-
Ukrainians are the largest foreign community in the Czech Republic, with almost 197,000 legally resident at the end of 2021. The Czech people have rallied around them and immediately mobilised to help the people at war and those fleeing the country. Romina Vinci reports from Prague.
Minivans leave all the time, at all hours of the day and night, because the Dům národnostních menšin centre, in the heart of Prague's New Town, is operating 24 hours a day. It has been since Thursday, February 24, the day the Russian invasion of Ukraine began.
Boxes containing canned food, medical supplies, and basic necessities are picked up and loaded onto vehicles. Once the minivans are full of donations they leave, heading for the Polish border. After unloading the packages at their destination, they bring back refugees trying to escape the war.
THE WAY HOME
Victor arrived here thanks to the Ukrainian embassy. He is 25 years old, and has been working in the capital of the Czech Republic for five months. Now he is looking for a way to go back to his country. "My friends are fighting, my parents are under the bombs, I cannot stay here, I want to go back to them," he tells us. He spends more than half an hour in the organization's office. They tell him that he is in the wrong place, because they don't offer passage to go back, they only send material. Victor, however, does not give up, and finally wins; he gets permission to 'accompany' the driver of a minivan. He will have to fit among the boxes, putting some on his lap, and others in the legroom, so he does "not take away space from the aid," but he will travel that route backwards.
When we meet him, he has already joined the chain of arms that carries the packages from the inside to the outside of the building, so as to speed up the loading process. He has the eyes of someone who has finally managed to find a way to leave, but knows at the same time that he is going to war, and he may be about to start a journey with no return. 
This centre is located one stop from the Muzeum metro, the beating heart of the city. It is here, on this avenue that leads to the old part of the city, that the big gatherings are held. Last Friday, at 6 p.m. on the dot, Ukrainian President Zelensky thanked the Czech Republic for its help during a Skype call from his bunker in Kyiv. The place was overflowing with people, more than 30 thousand poured to the avenue to listen to his speech from the big screen.
And right here, next to the imposing bronze statue of St. Wenceslaus, protector of the nation, a reception point for Ukrainian refugees is open night and day. It is a modern building, a large open space where people can charge their phones, surf the Internet, have something to eat and get all the information they need. It is run by UEP, Ukrainian European Perspective, a non-profit organization that has been working for over ten years to support the Ukrainian population in Prague.
A LARGE COMMUNITY
Ukrainians represent the largest foreign community in the Czech Republic. According to the Czech Ministry of Interior, at the end of 2021 there were almost 197,000 legally resident Ukrainians in the country.
"There has always been a large Ukrainian community here," explains Yevgeniy. "The men mainly work as taxi drivers or in the construction sector, the women are employed in domestic services." Yevgeniy is 35 years old, has lived in Prague since 2016 and is originally from the Odessa region. "My dad is Russian, my mum is Romanian. I am 50% Russian and 50% Romanian, which makes me a perfect Ukrainian," he tells us with a smile. His parents and grandparents are still there, they are safe at the moment, and he is in constant contact with them. He follows the battles on various Telegram channels, more or less official, so that he can give them fresh updates on the movement and progress of the Russian troops. At the UEP centre, he helps out as a volunteer, working shifts of eight hours or more. "Women, children and elderly people arrive here. Most of them already have contacts and a destination to reach, but there are some people who are completely lost, who do not even know where they are, have never heard Czech, and have no idea what to do – especially young mothers with small children in tow," he says. At the centre they always find a hot meal, soup or rice cooked by the volunteers using only Ukrainian recipes. "We offer them some refreshment, a temporary place to stay, as well as clothes and basic necessities, especially for the children," Yevgeniy explains. All the supplies and aid that continue to arrive are stored downstairs in the building.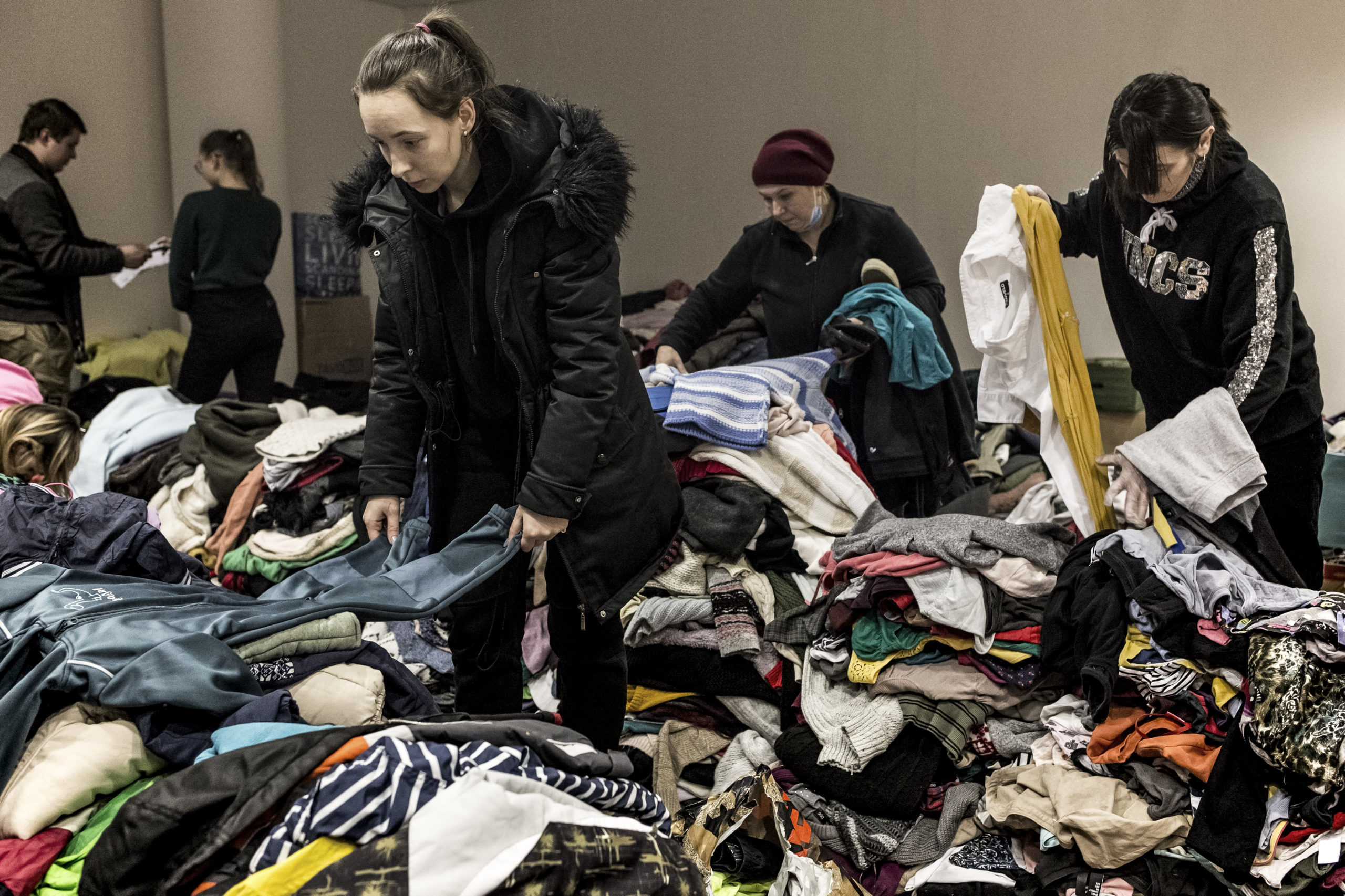 PILES OF CLOTHES
Clothes are arranged in long rows, piled up on the ground, and form a zigzag path where anyone can take their time to look for something in their own size, and also in their own taste. It is difficult to distinguish between volunteers and refugees, and it is difficult to understand who is trying to fold shirt after shirt, to give some sort of order to the piles, and who is rummaging through the garments because they have nothing left to wear. There is also a children's play area with carpets, crayons and toys in the corner. There is not much space, and the rules on social distancing that have marked the last two years have been dispensed with. A mother arrives and lets her little girl slip out of her arms, she immediately takes hold of a plastic tricycle and starts slaloming through the rows of clothes, bringing joy to the whole room.
Yevgeniy has a degree in International Relations, so he also tries to explain to these women their rights, what refugee status means, what opportunities they have. In Prague, he is employed in a large telemarketing company and his boss has given him carte blanche, allowing him days off to concentrate on aid. "I have been lucky," Yevgeniy admits, "other volunteers continue to work their normal shifts and come here as soon as they are off. We sleep an average of 2-3 hours per night, but we can never truly switch off, our minds are constantly in the war. I have told the company that I will not go back to work for them, because for the first time in my life, I feel that I can be useful to my people and give meaning to my studies".
More than one hundred thousand Ukrainian refugees have arrived in the Czech Republic since the beginning of the conflict. The Minister of Interior, Vít Rakušan, stated a few days ago that about 57,000 people have already received special visas, more than half of which are children. About a quarter of the refugees are in the capital Prague. 
The reception effort is considerable. In Praha Hlavní Nádraží, the largest railway station in the Czech Republic, the municipality has set up a tent to serve as an information point. The volunteers are easily recognisable by their yellow and blue bibs. "We do not have to cope with large numbers of people coming off the trains," Nikola, a volunteer on her fourth day of service, tells us. "Yesterday three hundred refugees arrived on the same train. We have a database of available accommodation: hotels, Airbnbs, but also normal families that have made rooms and houses available for the Ukrainians, and we try to find the best solution for each of them."
Sitting on a bench, her eyes fixed on her 8-year-old son, who is using a giant trolley to engage in improbable races with other children his age, turning the hall into a small rally, Olga does not want to look back. She is 38 years old and her husband has stayed behind in Kyiv: "He used to be a security guard at the airport, now he fights in the Ukrainian army," she says. She has lived in the Czech Republic before, kept in touch with some people, and is now waiting for a friend to come and pick her up. She has travelled for five days, crossing Poland and Slovakia in buses that took endless hours. But she does not want to hear about rest. Tomorrow, if all goes well, she will start working. 
"I'm not going to sit here and wait for time to pass, I want to work hard and send as much money as possible to my people," she says resolutely. "We are fighters, we are heroes, we will not bend, we will not give up."
Cover photo: volunteers at Prague Central Station. Photo by Romina Vinci.