June 25, 2019
As World Refugee Day was promoted by the UNHCR (70 million are forcibly displaced worldwide), the Sea Watch is still being refused a docking port: 43 people have been waiting at sea for 12 days, as the case reaches the Strasbourg Court.
1. Where are you? 
A boat full of people in the middle of the sea, hundreds of colours clashing with the deep blue water, some of the faces looking up to the camera. The picture taken by Massimo Sestini above the waters between Libya and Sicily from a Navy chopper in the summer of 2014 has become a symbol of the Mediterranean migrant crisis.
The image became the 2015 World Press Photo of the Year, and its author was left with a lingering curiosity: what happened to those people? Are they all right? Did they remain in Europe? Curiosity turned into a search, and Sestini's "Where are you?" is now a documentary produced by National Geographic – "Where are you? Dimmi dove sei" – which tracks some of the people portrayed in the picture.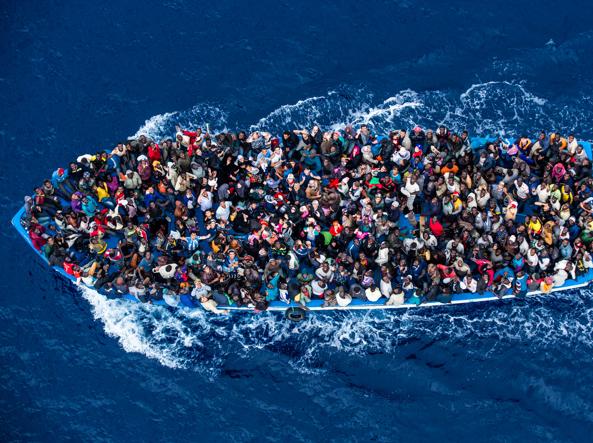 Among those on that boat is Ansumana Kassama, a 21-year-old from Gambia who is about to graduate from high school in Italy. He is the only one from the boat who remained in our country, and he has told his incredible story in an interview with Corriere della Sera.
2. Solidarity targeted in Imperia
The trial began on Monday in Imperia against the 31 "no borders" who were arrested on September 30, 2015, as they protested in Ventimiglia against the closing of the French border.
"Lacking adequate response from institution to the unexpected suspension of Schengen by France – activists explained to Repubblica during the trial – hundreds of migrants found solidarity and protection in Ventimiglia throughout that summer".
At the time, in the town, a solidarity demonstration was held near the sea in support of migrants travelling to France and other EU countries, with food, clothes and coordination for initiatives against the closing. The next hearing is scheduled on February 17.
Even across the border, solidarity has been targeted over the last few years: Marco Cacioppo wrote about Cédric Herrou and the film Libre.
3. More than 70 million forcibly displaced worldwide
According to the latest data released by UNHCR on World Refugee Day, over 70 million people have been forcibly displaced worldwide as a result of conflict or violence.
As The New Humanitarian reported, he number of refugees has reached a record high – nearly 26 million worldwide, not counting the tens of millions internally displaced within their own countries, nor millions more rendered stateless – the majority of them come from just three countries – Syria, South Sudan, and Afghanistan.
The burden is mostly shared by neighbouring, often developing, countries; of the top ten countries of asylum, only one, Germany, is in the EU. Uganda, Sudan, Ethiopia and Bangladesh have taken in over 13 million refugees, 64% of all those under the UN mandate. Canada admitted the largest number of resettled refugees.
What about Italy? As Sara Ficocelli wrote in Repubblica, the impact of sea arrivals and asylum claims is being reduced; as of late May, migrants were down to 113,000, compared to 184,000 in December 2017.
Open Migration also has a quiz on migrants and refugees: 10 questions (and all the answers) to test your knowledge about the events of last year.
4. Humanitarian corridors, Italian government open to Libya project
Italian PM Conte has expressed an interest in the proposal of a European humanitarian corridor from Libya, and has committed to discussing it with EU partners "in the shared knowledge that the current emergency must be met in a coordinated manner through adequate operative and financial measures".
"The PM's statement are a testament to the interest the government has taken in our proposal, as well as confirming the support offered by vice minister Emanuela Del Re, to the humanitarian corridor programme launched in 2016. As Protestants – said Luca M. Negro, president of the Federation of Evangelical Churches in Italy – we have already pledged to asking our sister churches in Europe to pressure their governments to support Italy's proposal."
Humanitarian corridors are already a reality in countries like Lebanon, from which 1,475 people arrived safely in Italy, thanks to the support of Comunità di Sant'Egidio, the Federation of Evangelical Churches in Italy and the Waldensian Church. Eleonora Camilli and Federica Mameli met with Mohammad, Wafa, Ibrahim, Osama and Ahmed shortly before they left Beirut for Italy.
5. The Sea Watch case before the Strasbourg Court
43 migrants have been at sea for 12 days now, in a standstill that increasingly appears as nothing but retaliation against the Dutch NGO ship  (as Open reported, 45 migrants rescued by the Coast Guard and the Guardia di Finanza were quietly disembarked last week).
Now the Sea Watch 3 – according to Il Fatto Quotidiano – has appealed to the Strasbourg Court "asking for provisional measures to allow the migrants on board to disembark".
Giorgia Linardi, spokesperson for Sea Watch, has pointed out "An appeal has been lodged, not by the organisation but by the individuals on board, who have chosen to apply to the European Court for their human rights."
As Luca Gambardella wrote in Il Foglio, both the Italian government and Sea Watch have submitted their statements to the Strasbourg judges.
The European Commission has also intervened, calling on the States to "find a solution", while interior minister Salvini has repeated that the island's port is closed, and has urged Germany and the Netherlands to take charge of the people on board; he had already stated that the Netherlands had to take responsibility.
Meanwhile, in Lampedusa, people are sleeping on the church's step in solidarity with the Sea Watch migrants: "It's not a protest, but an act of solidarity that we hope will be taken up by other Italian cities".
https://twitter.com/SeaWatchItaly/status/1143068500015091712
6. CPRs: longer detention times, living conditions still poor
The current situation is even worse than in the past. This is an assessment of CPRs (Permanent repatriation centres) in Italy according to the Ombudsman for the rights of persons detained or deprived of their liberty, Mauro Palma.
Concerns were voiced over the daily routine of detainees: "Days go by with no activities, with obvious repercussions on the physical and mental health of people held (for up to six months or more)", as well as the material conditions: "The premises have often been damaged or burned by previous occupants, but kept in disrepair and with a lack of hygiene".
Last week, delegations from the Ombudsman visited the recently reopened men's section of Ponte Galeria and the CPRs in Palazzo San Gervasio (Potenza), Bari and Brindisi: "Deprivation of liberty as a consequence not of crimes, but administrative irregularity, cannot be similar or worse than detention in prison. And it cannot mean fewer protections of human rights: as the Ombudsman has long suggested, the right to complain and the power of vigilance by the courts must be introduced in situations of deprived liberty for migrants." This is why the Ombudsman called on the government to consider "the urgent need to make living conditions in these centres compatible with the recent extension of detention times".
Open Migration has also recently looked into the CPRs. The release of a new report "Uscita d'emergenza", by the Human Rights and Migration Law Clinic, in collaboration with the International University College of Turin, the Law Departments of the University of Turin and the Università del Piemonte Orientale, Alessandria was an opportunity to tell you about the situation of those held inside the CPR of Turin.
7. Life after the Aquarius
Hazrat is from Bangladesh and did not know how to cook: today he works at a bistro. Khingsley, who spent more than half his life migrating, is now learning to read at a French school.  Young Diokel, from Senegal, who was rescued by a Santa Pola fishing boat, earns his living as a day labourer. One year ago, Spain became the unlikely destination for migrants refused landing in Italy and Malta. The Aquarius was the first and most symbolic case, but not the only one. Since then, until January, when Spain also opted for a crackdown on sea arrivals, more than 1,000 people rescued in the Mediterranean arrived in the country hoping to build a better life. Maria Martin and Ignacio Zafra told their stories in El Pais.
8. Zero tolerance: record refugee evictions at camps near Calais
More than 800 clearances of migrant camps near the ports of Calais and Dunkirk have been recorded since last August, a zero tolerance strategy that campaigners say is designed to stop migrants attempting to cross the Channel by boat (we wrote about it here).
According to a report by the Guardian, French police carried out 12 evictions in Calais last July alone.
9. Trump's deal with Mexico is doomed
Mexico will use its National Guard to curb irregular migration throughout Mexico, giving priority to its southern border with Guatemala, while the United States will expand the Migrant Protection Protocols (MPP) program across its entire border with Mexico. Undocumented migrants crossing our southern border to seek asylum will be returned to Mexico to wait for a hearing on their asylum claims. The United States and Mexico also agreed to work on establishing safe third country agreements. These are the terms of Trump's deal with Mexico to stop the flow of immigrants.
As the Financial Times reported, the deal has been heavily criticised in Mexico, mostly for bending to the will of the USA on such a crucial issue as migration.
In this New York Times podcast, Michael Barbero explains how that policy could fundamentally change immigration in the United States.
10. Snapshot of hope
"I have loved painting since I was little and I want to be a painter when I grow up. That's why I have drawn a brush. I also love birthdays! I have drawn my friends here in the camp because I love them. I have also drawn a big house because I want one some day". Marwa, 14, from Aleppo, Syria, living in Zaatari refugee camp, Jordan. Thousands of refugee children like her are forced to live away from their homes. To mark World Refugee Day, Save the Children invited children living in settlements in Jordan, Bangladesh and Uganda to draw their hopes and memories on a portrait of themselves. See them in the Guardian.
Cover photo via Sea Watch Italy