March 28, 2022
-
As the Russian invasion in Ukraine intensifies, space for dissent within Russian society decreases more and more. Thousands of people, mostly youths, who wish to distance themselves from Putin's politics, are leaving the country. Over 10,000 Russian citizens have already moved to Georgia, but even once across the border, fears of the potential ramifications of this exodus remain.
Olga* and Vlad* are a young Russian couple whose relationship continues at a distance today due to the war that began on February 24th. Vlad is one of the thousands of Russian citizens who, oppressed by an increasingly tense political climate, has decided to move to Georgia, while his girlfriend remains behind in St. Petersburg.
"I can't agree with what's happening in Ukraine, it's unacceptable to me. I can't live in a country that started a war in Europe in 2022", Vlad confesses.
According to the Georgian Minister of the Interior, Vakhtang Gomelauri, from February 24th to March 16th, about 30,439 Russians arrived in Georgia and of these 17,801 left for other destinations, while 12,638 decided to stay.
"I feel like a political exile, within the Russian society it's not that unusual. I read about Brodsky, Bunin, it's a feeling that I've always known, that I learned about through literature, but I never thought it would have happened to me ".
Vlad chose Georgia because it is easily accessible by Russians; it allows for visa-free entry and Russians can stay up to a year without issue. Georgia is not the only country with easy access, the 21-year-old adds – other countries such as Armenia allow Russian citizens to stay without restrictions for up to 90 days.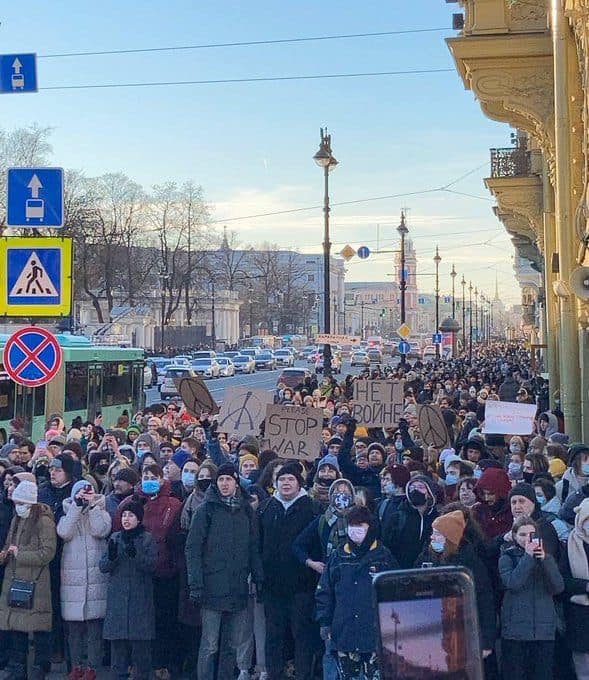 Before moving to Tbilisi, Vlad worked as a research engineer in the field of artificial intelligence. He arrived in the Georgian capital on March 11. After sleeping on his friend's floor for a week, he rented an apartment. 
"Sometimes I feel very sad that I can't go back, because I love my country. I hate the government, but I love the country; I miss it a lot. Sometimes I am disappointed by what is happening and by the responsibility that Russian society has, because, somehow, it is our fault too".
He says that the stories of many young people on the Russian border or in airports are similar to his own. Police forces may check people's photo galleries and social networks to see if their political beliefs are opposed to Putin's. 
"It is not safe to go back to Russia and live there because a few weeks ago they changed some laws that mean I could be imprisoned for up to 15 years, just for posting something on Instagram in favour of Ukraine or posting photos of the war crimes we are committing on my social networks. It is dangerous even to donate to Ukrainians – all of this is already illegal", he concludes.
Olga is also trying to get a passport to join him in Georgia.
"It's difficult to plan everything because prices are rising every day. I'm not sure if the borders will still be open, there are rumours that they want to close them because there are thousands of people leaving," says Olga.
According to the 22-year-old, it is difficult at the moment to obtain a passport in Russia as there are many requests from citizens. This difficulty, according to Olga, may also be politically motivated.
"The prices of airline tickets have doubled or tripled: for example, tickets to go to Georgia used to cost 10 thousand rubles, now it costs 100 thousand rubles, 10 times more" she explains.
As for social media, Olga says that in Russia these channels are disabled and she uses Instagram only with a VPN, which changes a machine's IP address and thus means that bans can be circumvented.
"I can't wait to leave; I would like to do it as soon as possible. I've been panicking because a girl I shared a cell with when we were arrested for protests against Putin told me that the police had gone to her house after they released us and checked everything. I deleted the conversations, I deleted the photos from my phone, from my PC. I've spent my days looking out the window waiting for the police" confesses Olga.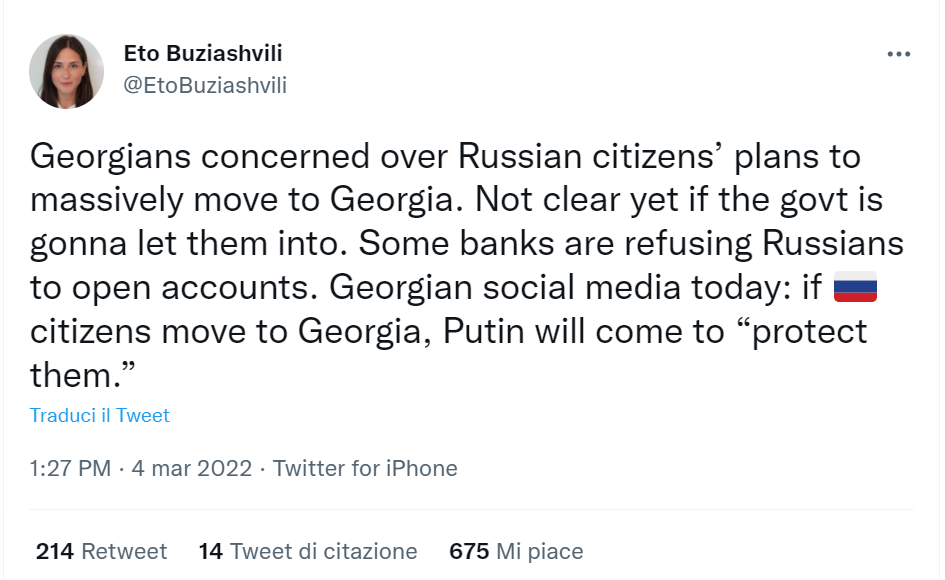 However, many Georgians are intimidated by the influx of Russian citizens, afraid that this could turn into an excuse for Putin to invade Georgia. The country had already known war in 2008, when Putin sent combat troops to South Ossetia with the motivation to support citizens of Russian descent.
*Names have been changed for confidentiality reasons.
Cover photo via Twitter.