March 8, 2022
-
All the refugees fleeing Kyiv, Kharkiv, Chernihiv, Mariupol, Kherson, and other cities assaulted by the Russian Army stream through Lviv, where they wait for hours to board a train to a safe destination. How is the city preparing to help them?
Chernivetska Avenue is right in front of the Lviv railway station, a masterpiece of Galician Art Nouveau, used as an example in the early 20th century for the construction of railway stations in Prague and Vienna. Accessible on foot or by tram, it teems with people moving both towards the tracks and in the opposite direction, headed to the city. Some pick up the pace because it is snowing, while others just stop for a few seconds, exhausted, to catch their breath, pick up a child, or grab the handle of a suitcase that has fallen to the ground. Lviv train station is a transit point between East and West, a link between other Ukrainian cities and Europe with just over 1.2 million passengers a month. In less than two weeks, almost the same number of refugees has been here, starting from February 24, the day that changed the way Ukrainians perceive time, and marked the difference between 'before' and 'after' the war. 
All the refugees who every day leave Kyiv, Kharkiv, Chernihiv, Mariupol, Kherson, and other places under Russian bombing, transit via Liviv, after waiting for hours – crammed into the departure stations – for the few trains available, in an attempt to save their own lives. The arrival in Lviv, after an endless journey, is just as complicated, because the packed trains pour women, children, old people, and pets onto the platforms, which can no longer hold them all. From there, they slowly make their way down to the subway that connects the tracks to the station's entrance hall. It is only a few metres in all, where the stories of so many people intertwine. There are queues of refugees waiting for the next train to Poland, hoping to get on it, and those who have just arrived and are still trying to work out how to continue their journey – whether by train, bus or car, or whether to stay for a few days in a city that has now no more room to accommodate them. Hotels, primary schools, cinemas, theatres, and even the private homes of families – who open their doors to friends and relatives, but also to strangers in need who have come into contact through help requests posted on Facebook or Telegram, or through word of mouth – are completely rammed.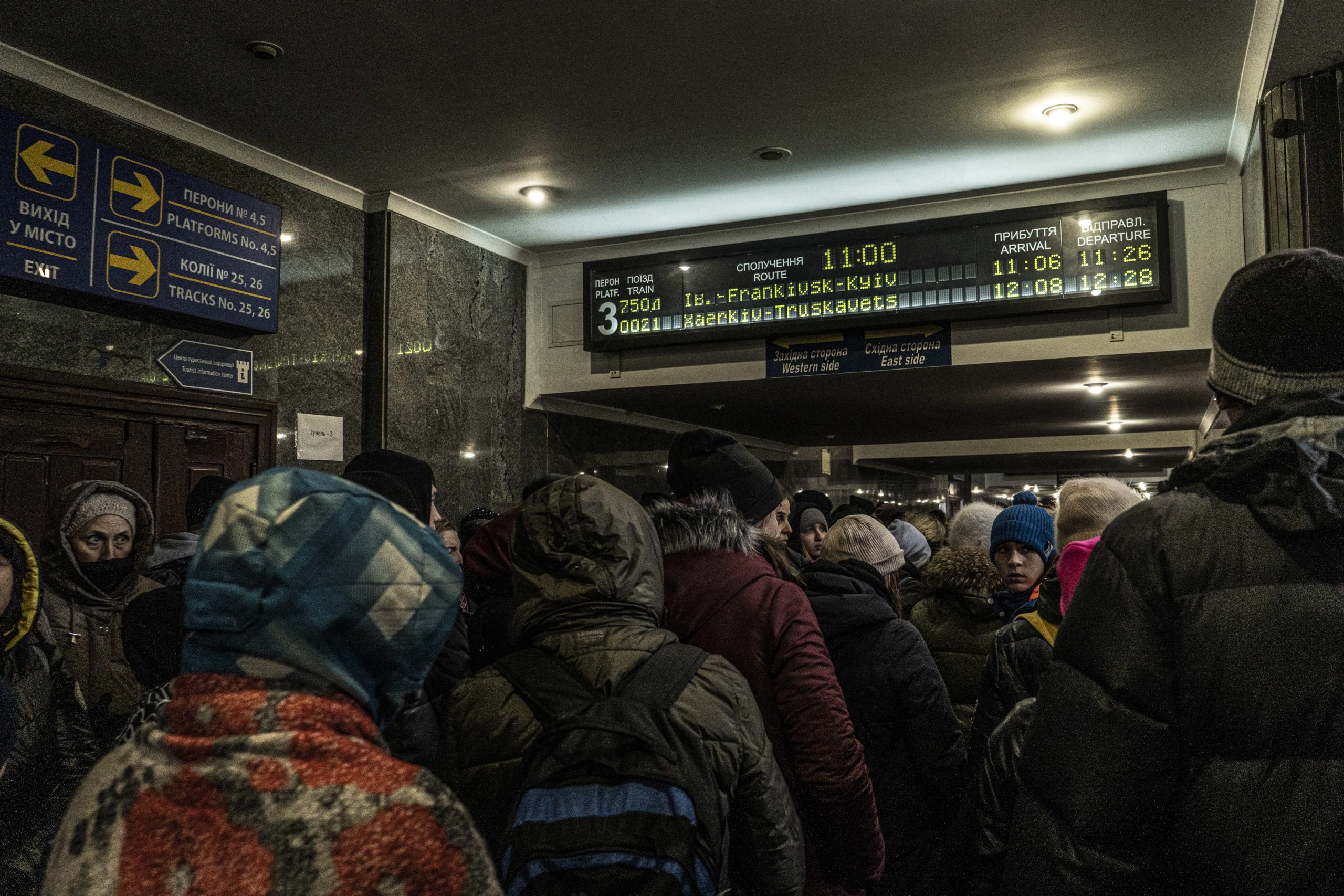 Only one kilometre away from the chaos of the trains, the buses, the luggage piled up everywhere, the Red Cross tents, and the stalls distributing borscht, other soups, and hot tea, Lviv suddenly seems to take on the appearance of a city where for a few minutes the war can still be forgotten. But the reality is different. Some of the statues in the ancient squares have been covered with fireproof tarpaulins, as if to protect them in case of attack, and today they look like shapeless white puppets. Many shops, cafés and restaurants in the city centre are closed during the day, not just in the evening when the curfew is set to start at ten o'clock. Others have chosen to stay open, but the customers are dwindling on a daily basis.
"Nobody wants to go out for lunch with all this going on," says Vasil, a chef with international experience and the owner of a Mexican restaurant. "My business partners and I are staying here, but we have decided to help those in need, so every day we make hot meals for the refugees." At noon, a long table on the first floor of his restaurant is covered with plastic trays containing a serving of rice, meat, legumes, and a fresh salad. "No one expected the war to happen like this, overnight," he says, "but in an instant, everyone's life was turned upside down. And it doesn't matter that so far this city has been spared from the Russian attacks, because every one of us has at least one relative or a friend who can tell us about horrible things, or who has fled their home, or is still stuck somewhere".
Dima, a 30-year-old man from Kyiv, has moved his headquarters into a four-storey multifunctional building that used to house a number of photographic studios. It is now partly a dormitory for evacuees and partly an office for coordinating aid distribution and the evacuation of people in danger. Dima runs his own travel agency, which he opened eight years ago in his early twenties, but when the Russian invasion began, he decided to leave the capital with his family and close friends – eighteen people in all – and arrived in Lviv five days ago. "Unfortunately, we have been forced to leave our home, but I'm not going to take up arms because I've never done it and I wouldn't even know how to use a gun," he says, "but I thought that the network of international contacts we've created over the years thanks to our job could be useful for raising funds for people like me who are fleeing the war and losing everything, and also for activating a social campaign using tools that we normally use for other things".
Thanks to its crowdfunding, Dima has already raised over eight thousand euros, which have been used not only to provide shelter to the refugees, but also to spread through Instagram information on how to behave in case of attack, where to take refuge, how to choose information sources, and how to identify fake news. "We are also making short videos showing what is going on in squares around the world," explains Dima, "where people are demonstrating to support us. It is extremely important, because we believe that spreading positive messages is the right thing to do".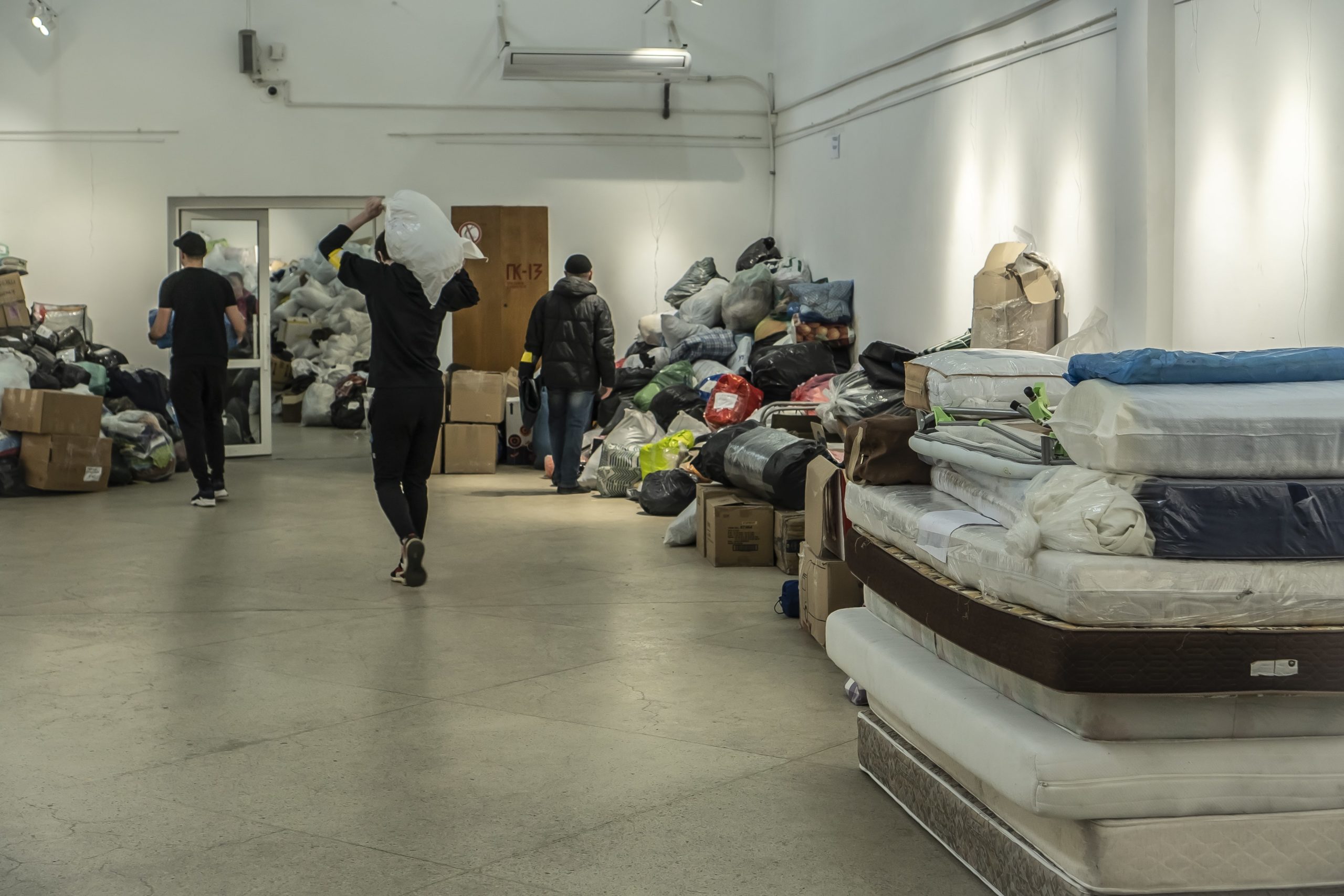 Meanwhile, at the Palace of Arts in Kopernyka Street, one of the main streets of Lviv, people are queuing up to donate something or to volunteer. This art gallery has become the biggest humanitarian aid hub in town, collecting food, medicine, clothes, mattresses, and blankets from private citizens and associations, both local and foreign. "What we do here is collect supplies and deliver them to those in need," explains Yurii Vizniak, the volunteer manager. "We have been here for ten days now, and we try to send basic necessities not only to civilians but also to the military at the front. There are more than 300 volunteers here, operating round the clock, seven days a week. We work in synergy with other hubs that are closer to the areas affected by the fighting, for a more widespread and effective distribution."
Upstairs, the cinema has become an endless pile of clothes that a group of young people examine and sort by size and type, before placing them in cardboard boxes or large plastic bags, which another team carries down the stairs, forming a human chain all the way to the courtyard, where there is always a lorry ready to be loaded.
"In the last two days alone," Yurii says proudly, "we have packed 300 of them. Unfortunately, we can't get all the first aid material we need, but we do our best to make sure that nothing is left behind. We just hope that as days go by, the need for humanitarian aid may gradually decline."
Cover: Lviv central station, photo by Ilaria Romano.