March 22, 2022
-
Since the outbreak of war in Ukraine, the Polish border has already been crossed by several thousand people escaping the violence. Ilaria Romano traveled to Rzeszów, the largest Polish city on the south-eastern border, to tell us how they are getting organised and to collect the first testimonies of those who have finally reached Poland.
The Intercity train from Warsaw takes about six hours to reach Rzeszów, the largest town in south-eastern Poland, before heading on to Przemyśl, a few kilometres from the border with Ukraine, at one of the most heavily trafficked crossing points for refugees fleeing towns under attack. 
Marco caught the train in Krakow, and is attempting to get as close to the border as possible, because his girlfriend, who left Kyiv four days ago, is about to arrive in Poland. The couple, he Italian and she Ukrainian, live in the UK, but she was at her parents' house right when the conflict broke out, and getting out of the country following the closure of airspace has become fraught with difficulty. 
"I just hope to reach her – Marco explained – we will stay for a few days in Krakow and then we will try to work out where we should apply for asylum, whether in Italy or in the UK".
In the meanwhile, during the last four days, Rzeszów station has turned into a first reception centre: trains, buses and private minivans travelling all across Poland leave from here, heading to the main cities of the country, where Ukrainians seeking refuge often have relatives or friends. The taxis in the large square have all moved back to make way for ambulances and buses that continue to carry Ukrainian citizens, most of whom are women with small children in tow, away from their homeland. 
The waiting room inside is packed with luggage of various sizes, soft toys, shopping bags full of water, biscuits, chocolate bars and some fruit. At the entrance, an arrow indicates that the help point is on the left, behind the small newspaper kiosk, and dozens of volunteers keep a record of the people in transit and the places they are heading for. The first things everyone asks for are a power socket to recharge their phones and directions on how to continue their journey. Some children sit on their trolleys for hours, some of them burst into tears because they are exhausted from waiting and from the long journey they have already made.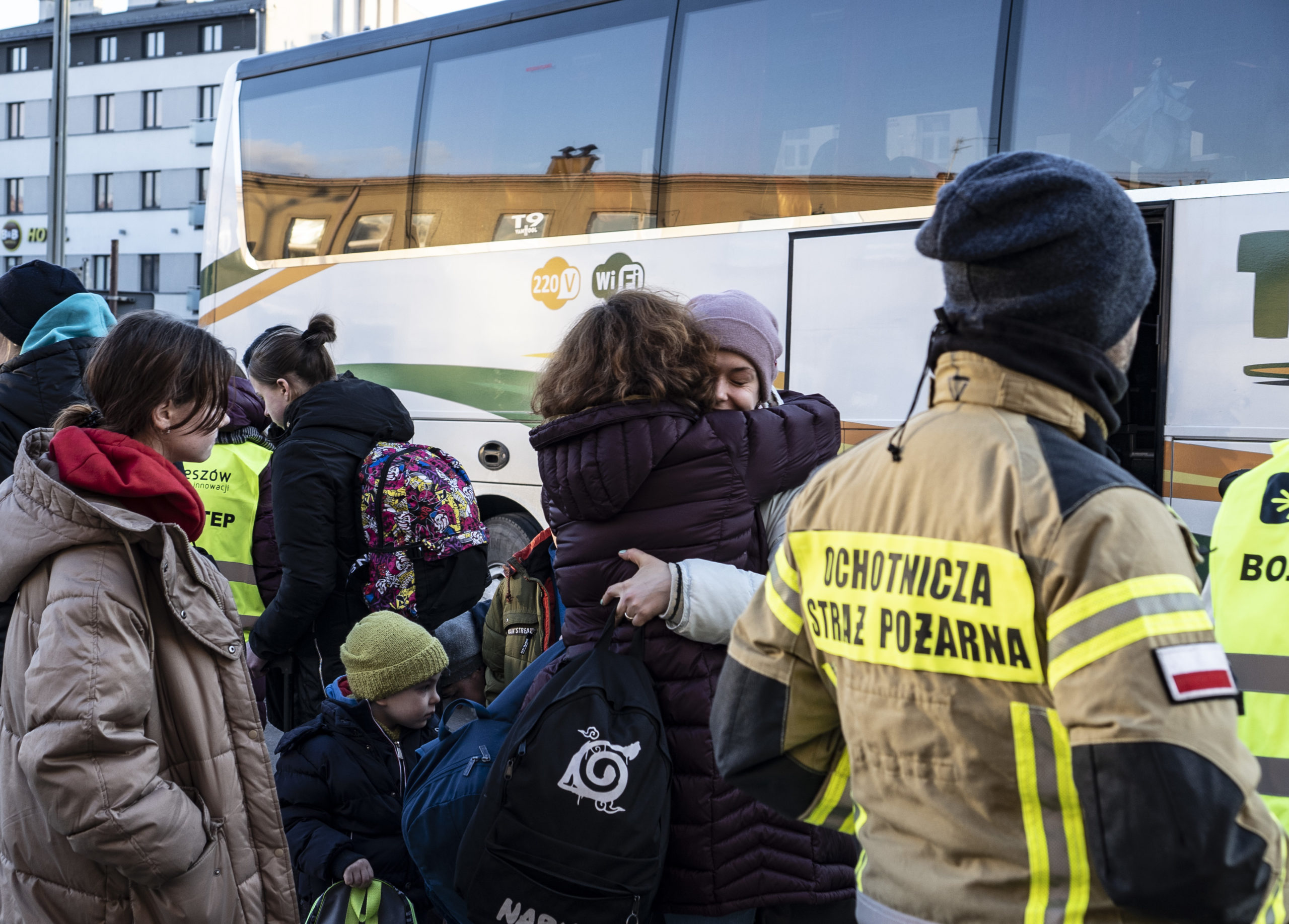 Paulina is sitting in her pram, wearing a pink snowsuit that reveals only her hands. She is no older than a year and a half, and her grandmother Mirna tries to keep her entertained with a colourful book while telling her stories, while Anja, her mother, is searching for a volunteer who can confirm that the departing train is hers, even though the indicated destination is not Krakow. 
"We left from Kyiv, where we live, but we are originally from Donetsk: this is the second time in eight years that I have left my home," says Anja, wearing a long quilted waistcoat pulled tight over her stomach" but in 2014 I didn't have a little girl and another child on the way.
Seven months pregnant, she decided to leave the capital after a residential building was struck. "The building you saw on all the newscasts is opposite the one where I live," she explains, "and the fear was too much. My mother and I made the decision to leave, hopefully only for a month, two at most, because my husband is still there and my in-laws didn't want to leave the city either".
They are heading for Warsaw, with two suitcases, a paper bag with Paulina's toys, and a pram. From Krakow they will have to catch another train. "We have friends there who will host us for the time it will take," says Mirna, "and we are hopeful that everything will go well."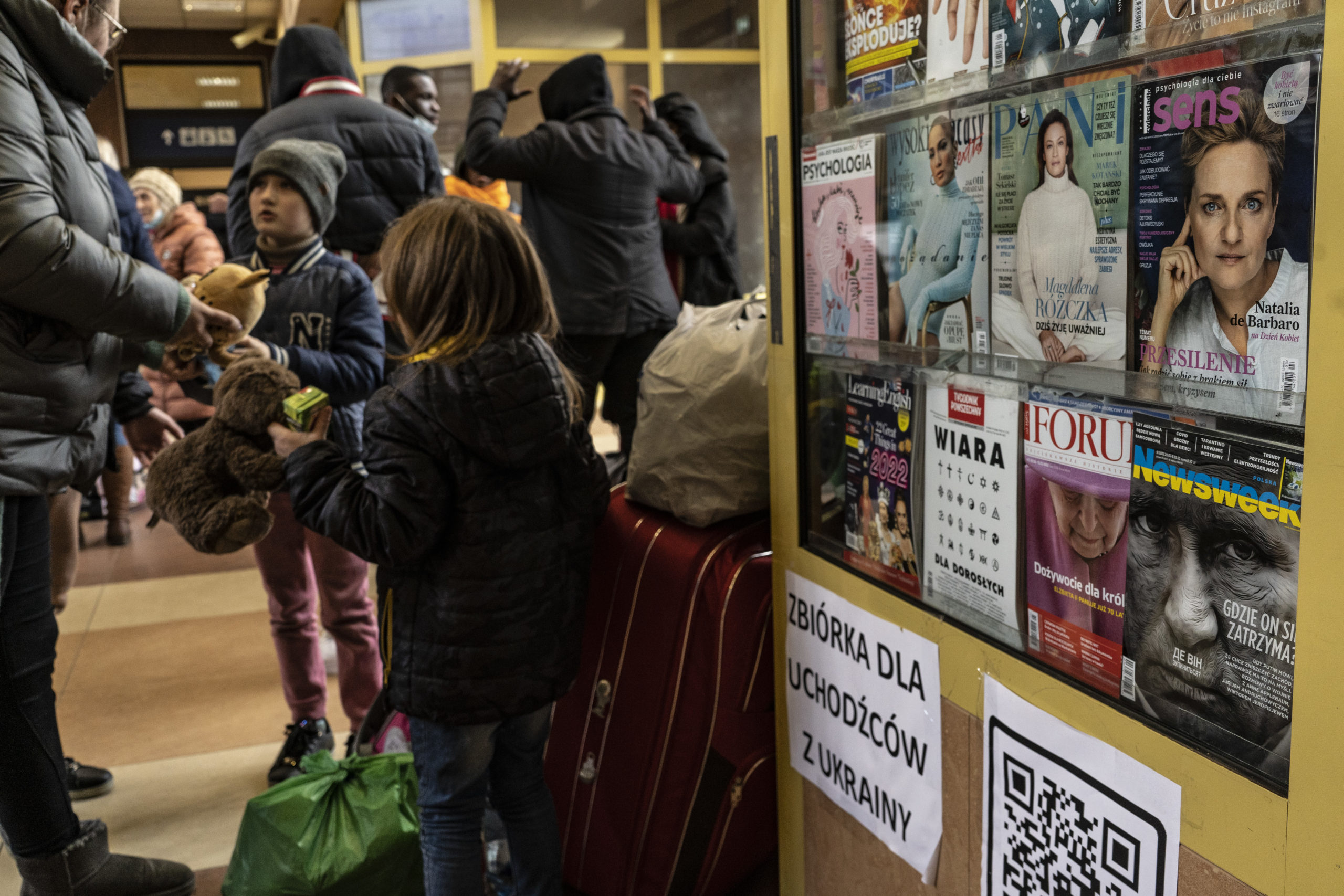 Until a few weeks ago they were living ordinary lives. Like many others, they had to rebuild their lives in the capital after escaping from the Donbass, when the war between Ukrainians and pro-Russian separatists who eventually proclaimed the autonomous republics of Donetsk and Luhansk was just beginning.
Their train is late, and a young volunteer offers to take them to the platform. They do not speak Polish and he does not speak Ukrainian. They use Russian as their common language to communicate, and they start talking about the situation that has unfolded, the fact that Ukrainians have been accused of being fascists, Nazis, and how none of this reflects reality.
Anja scrolls through the pictures on her mobile phone: Paulina's birth, an outing with her husband, her mother's birthday on Lake Garda. Then she grabs a blanket and puts it on Mirna's shoulders, because the train is late and they have been waiting on the platform for almost an hour in sub-zero temperatures. 
In the meantime, another Anjia rushes to the bus terminal, a few dozen metres from the train station, to catch the bus to Warsaw. With her are her three children. The eldest is ten years old and is almost as tall as her, while the youngest are seven and five years old. Each of them is holding a soft toy, and now they have bags and luggage to carry. Although they rushed off, the train had already left, and a young volunteer is trying to figure out an alternative: but here comes a minivan, it has four seats left. They will all be in Warsaw tonight.
Meanwhile, two girls arrive with their elderly parents following. Their father is holding their dog on a leash, and they each have a pet carrier with a cat. This is their luggage; they left almost everything else at home to travel with their pets, like many others do. 
"We try to give help, but the flow of people is non-stop," explains Martin, one of those in charge of the reception point. "The offices of the station have been made into storage places for the basic goods brought by the people of Rzeszów, which now need to be sorted. At the back we have created a canteen, where we offer hot meals and drinks, and a little refreshment before the onward journey. But the truth is that a lot more space is needed, along with more staff and information offices; in short, it's pure chaos. This is shocking for us as well, everything has changed in just four days and we are trying to do our best, learning on the job."
Cover: Rzeszów station, photo by Ilaria Romano.