April 20, 2022
-
On the border between Romania and Ukraine, a policy based on regular routes of entry, visa liberalisation and widespread reception is making it possible to avoid the occurrence of a "migration crisis" at the borders of the Union. A report by Eleonora Camilli
Every evening, when he finishes work on a construction site, Emanuel wears a yellow reflective harness and heads towards Siret, on the border between Ukraine and Romania. He waits calmly for people to arrive, then when the bus fills up, he shuttles between the border and Dumbraveni in Suceava, his hometown, where the mayor has equipped a sports hall to welcome refugees. "Since the war broke out I have come here to the border in my car. I wanted to do something. At home, I have a four-year-old boy and I couldn't stay and watch what was happening just in front of the TV" he explains. The first few evenings, towards the end of February, the temperatures dropped below freezing: "while speaking with other guys we wondered what could be really useful for the hundreds of people we met every night. And since it was too cold at night in the tents, we thought we'd find a place to let them stay. The Municipality has made available a structure with capacity for 300 people and so we have begun to transport the refugees there".
From the beginning of the Russian invasion of Ukraine (on 24 February) to 20 April, more than five million refugees have fled the country. In taking in more than 710,000 people, Romania is the second-largest host country in Europe, after Poland (which is hosting 2.8 million). Never before has the Bucharest government faced such an enormous influx of refugees. Most are women with children, but there are also many elderly refugees and refugees with disabilities. Almost all of them pass through the country with the intention of reaching friends and family in other European states – they stop for a day or two and then continue their journey. Others stay longer in the centres scattered throughout the territory so as not to stray too far from the border, with the idea of ​​returning home as soon as possible – if not in their own city, at least in the areas bordering Romania, far from bombarded areas.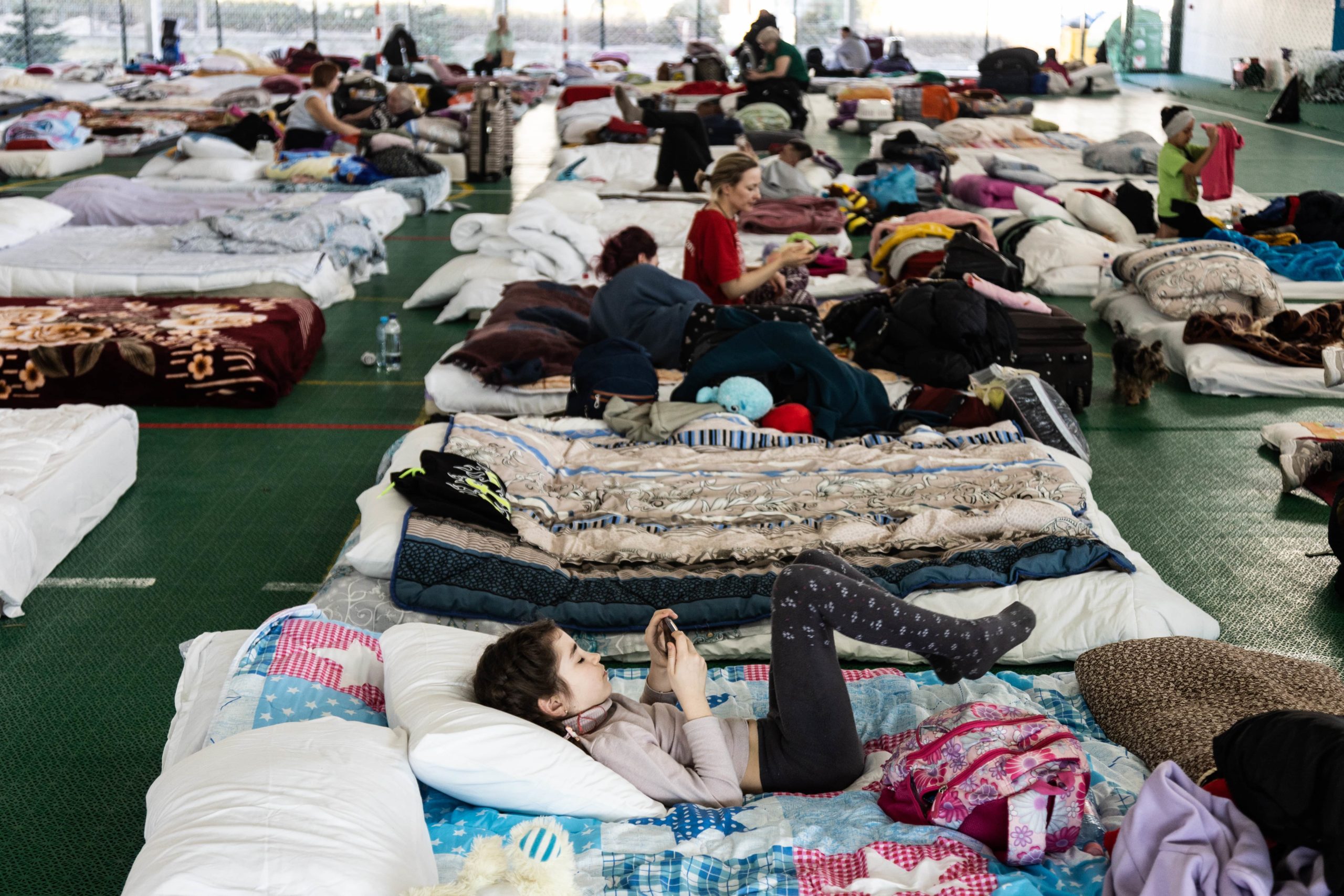 Dumbraveni di Suceava sports hall, a small Romanian town, used as a first reception center. Photo by Daniele Napolitano.
For everyone, the very first welcome begins close to the border: a hot tea, some chorba [a broad class of stews or rich soups found in national cuisines across the Middle East, Central Europe, Eastern Europe, Central Asia, Middle East, Balkans and the Indian subcontinent] and a bottle of water. Many volunteers are present to work inside the tents where stocks are stored, including biscuits, drinks, baby diapers and medicine. "There are people arriving who also have serious medical problems – explains Grigore, a Red Cross operator, "I have seen people with various illnesses, who needed to go to the hospital to undergo dialysis or seek treatment for other problems, even for a transplant in one instance. There are also many children who get colds and need to be treated so that the cold doesn't progress". As we speak, the operator continues to arrange the medicines in the tent. Occasionally someone comes along asking for water, food or directions to find out where to sleep at night. A tent is reserved for pets, which many decided to take with them while fleeing the war. There is everything from treats to sprays to veterinary medicines.
Along the road leading to the border, there are malleable structures for refugees: the orange are reserved for women with children, the blue have a label affixed to the outside with the name of the country of destination where once inside, one can wait for someone to arrive and offer them a ride. "At first, all types of people came here, even some men looking to take advantage of the situation," explains Emmanuel. "The locals banded together and sent the traffickers away. It was also decided that we would record all passages: those who come here by car or bus to offer a ride must leave their details so that no traces are lost. We tell the refugees to be careful and not to trust anyone, especially advising them to let relatives know about their movements and to call the police if they feel they are in danger".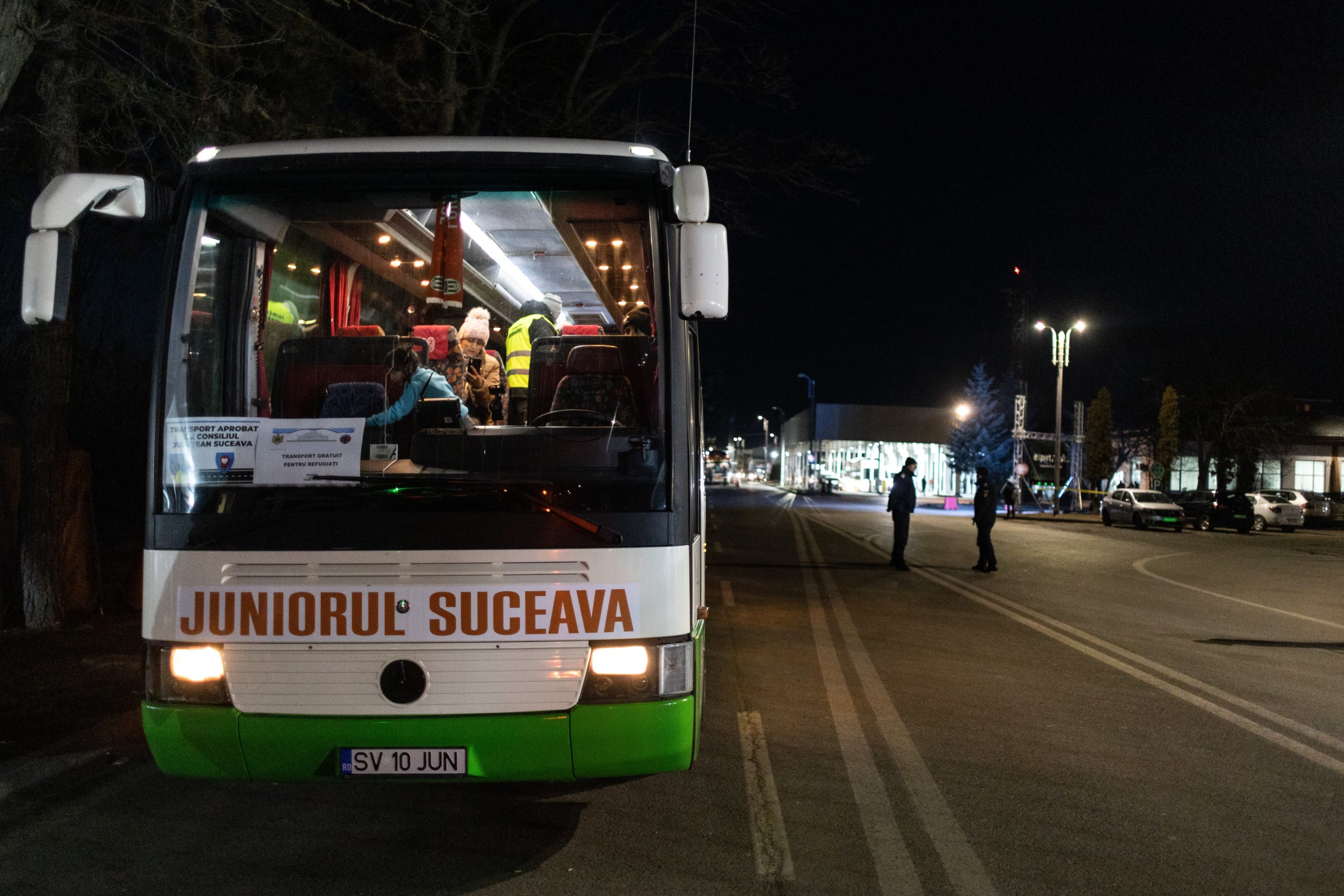 Siret, Romania-Ukraine border, bus waiting for departure. Photo by Daniele Napolitano.
When the bus is full it is ready to leave. Emmanuel with his yellow uniform takes the lead. He speaks in perfect Italian about his past in Villalba di Guidonia, a town near Rome. After years of work as a bricklayer he decided to return to Romania: "I owe a lot to Italy, but there always comes a time when you have to go home – he says – I understand these people who are forced to leave everything; I moved to work, they are forced to because of war. But it is never easy to leave your country". The distance from the border to the sports hall is about fifteen kilometres. Upon arrival, volunteers help people to get off the bus, especially the elderly with mobility problems. Then their names, surnames, documents, and city of destination are registered. In the perimeter of what until two months ago was a basketball court there are mattresses lined up and lying next to the luggage, children's toys and clothes. Outside, on the football pitch, some children play football. A woman approaches asking for information for her friend: she has a tumour, has stopped chemotherapy to flee her country but now needs treatment. The volunteers take notes, and they tell her that they will let her know shortly how to get adequate medical assistance.
"When we saw these people reach our borders, we immediately organised ourselves. First of all they needed a hot meal and a sheltered place to sleep" – says the mayor of the city Ioan Paval – "I didn't ask anyone for anything, I organised it myself, relying on my citizens. I created a simple Whatsapp group, asked for help and wrote the list of what we needed. The rest came by itself: everyone mobilised immediately. It was truly extraordinary".
In recent weeks, arrivals from Ukraine have decreased, there are also reverse flows of return, especially towards the cities of the country not affected by the conflict. But in recent months the reception has been truly "extraordinary" in Romania. Private citizens, small municipalities, hotels, schools, gyms – everyone has taken grassroots action to help refugees. The centres, including the government-mounted ones, were equipped in record time, not only for reception purposes but also as makeshift transit hubs. An experience that could also be used as a model for the management of migratory crises in other countries of first landing. As Alexander, one of the officials of the immigration office who we met in the Siret stadium explains, what helped the management was a completely new policy towards refugees. 
Even before the activation of Directive 55/2001 which gave the green light to immediate and temporary reception for Ukrainians, people were free to move, as never happened before, also thanks to an exemption from the obligation to have a visa which is active since 2014. "As in the other countries of first entry, we offer people the opportunity to apply for asylum, for those who want to access protection we do the photo-identification and then follow the procedure, after 15 days there is the first interview then in the 30-day turnaround decision. But most of the Ukrainians, 90% he estimates, want to move to Germany, France or Italy, explains the official. It is not mandatory to stay, they can choose. If they have a biometric passport, they can legally stay 90 days in Romania or other EU countries, without seeking asylum. In any case the borders are open for them, they are free to move. The Dublin Regulation does not apply to them".
How much this will affect the future of European immigration policies is still difficult to imagine. The double standard of protection and reception that currently occurs in relation to asylum seekers from other contexts is a sad reality that is still evident on the Balkan route, in Lesbos, on the border between Poland and Belarus. Certainly, what has happened in recent months, and not only in Romania, has been a laboratory of replicable practices and a demonstration of what many migration experts have been requesting for some time: a policy based on regular entry routes, visa liberalisation and hospitality makes it possible to avoid the occurrence of migratory crises which are often created by the bad choices made by the European Union rather than the migrants who are forced to flee.
Cover photo: Siret, Romania-Ukraine border, bus waiting for departure. Photo by Daniele Napolitano.