March 5, 2022
-
With Ilaria Romano we travel to the villages of Medyka and Przemyśl, along the Polish-Ukrainian border, to continue our report both on the drama of those fleeing the war, and also on how solidarity is responding to the emergency.
Medyka is a small town with a population of under three thousand, where houses are squeezed between the railway station and the border crossing with Ukraine. 
Since the start of the Russian offensive, a continuous flow of people have been crossing this border on foot, by car or minibus; they either continue along the same road, on the Polish side, or stop in a large dirt road which, over the days, has become an open-air self-organised reception centre. Dozens of volunteers have set up tents with food, drinks, animal feed and mobile phone charging stations. There is also a Médecins Sans Frontières tent with a small team of four, including physicians and nurses, who have arrived from Israel to provide first aid to those who have just faced an exhausting journey and will have to carry on from there.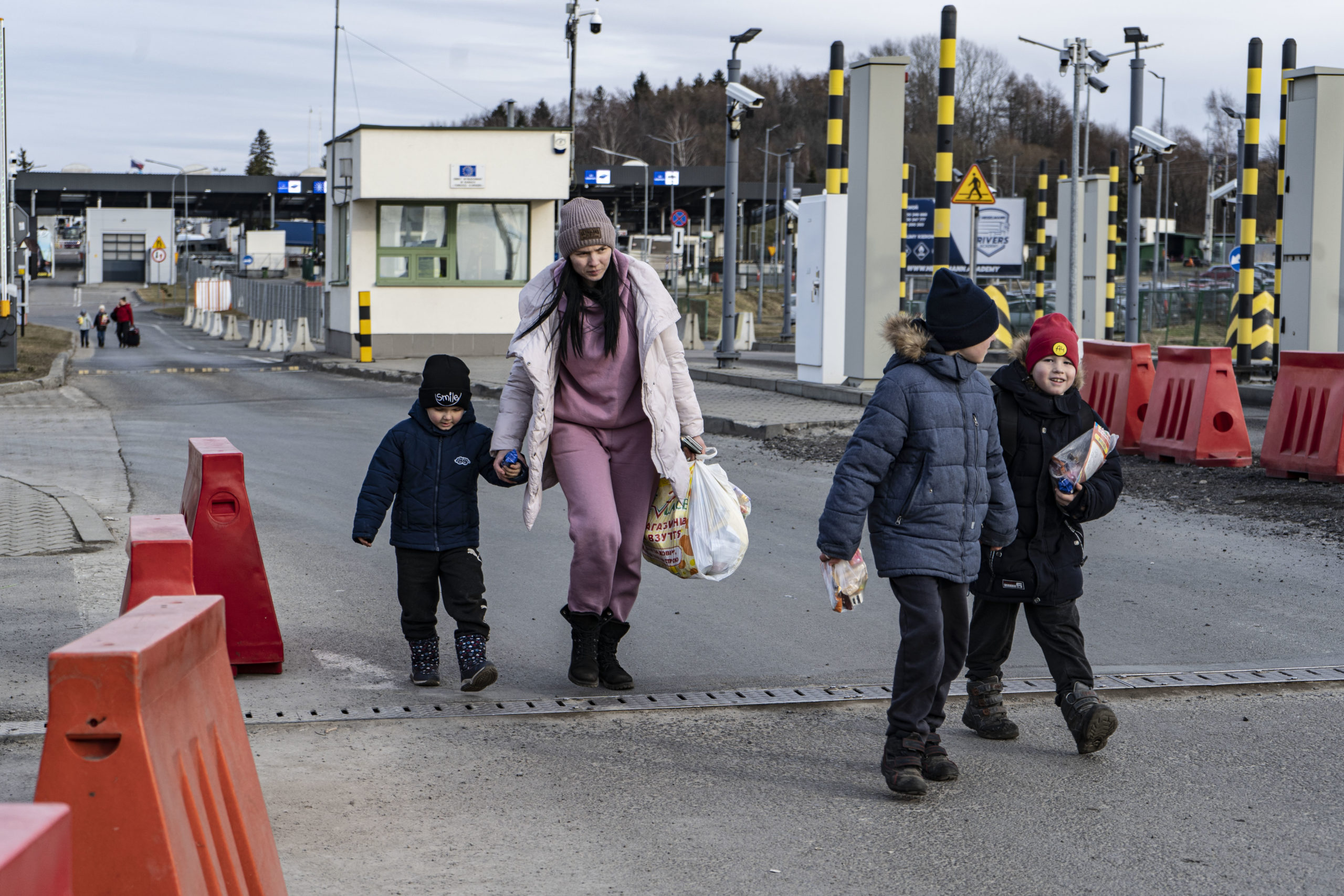 Fernand Cohen Tannoudji, the Medical Unit Chief, said: "Here at the border, two types of assistance are needed: minor care for mothers and children who do not have serious physical problems because they have travelled by bus, or have been accompanied by family members, and people who have risked frostbite due to having walked dozens of kilometres in the cold, with very little food or water. We try to help everyone, and where necessary we take them to the nearest hospital. The very last case was a woman who had a heart attack; we had to take her by ambulance a short while ago.
Many wait for their friends and relatives to arrive, and stay for several hours on the road, in their cars, waiting to see them appear; there are also those who have just fled the war and have remained at the border to help other people arriving, like Yulia, a Ukrainian student who has set up a stall with other volunteers, they serve soup and hot tea. 
"I fled from Kyiv a few days ago," she says, "and I saw that there is so much need for help because people are arriving constantly. So I decided to follow my friends who were already trying to help. We came to support the Ukrainians, but in reality we found people of many nationalities, who are fleeing my country, and many others ready to welcome them here.
Anu and Mihdnun are two Indian students living in Warsaw. They arrived at dawn to wait for their compatriots arriving from Kharkiv and Kyiv. "We responded to an appeal from our embassy," says Mihdnun, "and we have come here to the border to liaise between the Indian students returning from Ukraine and their families in India, who just want them back home. Many young people leave to go to university in Ukraine, especially those who choose medicine and engineering, degrees that are recognised by our country, which allows them, as well as those of us studying in Poland, to return home and get a qualified job right away. But this war has changed everything.
Two Pakistani young men are also with them. They have just crossed the border and are waiting to receive their first medical care. They were studying in Odessa.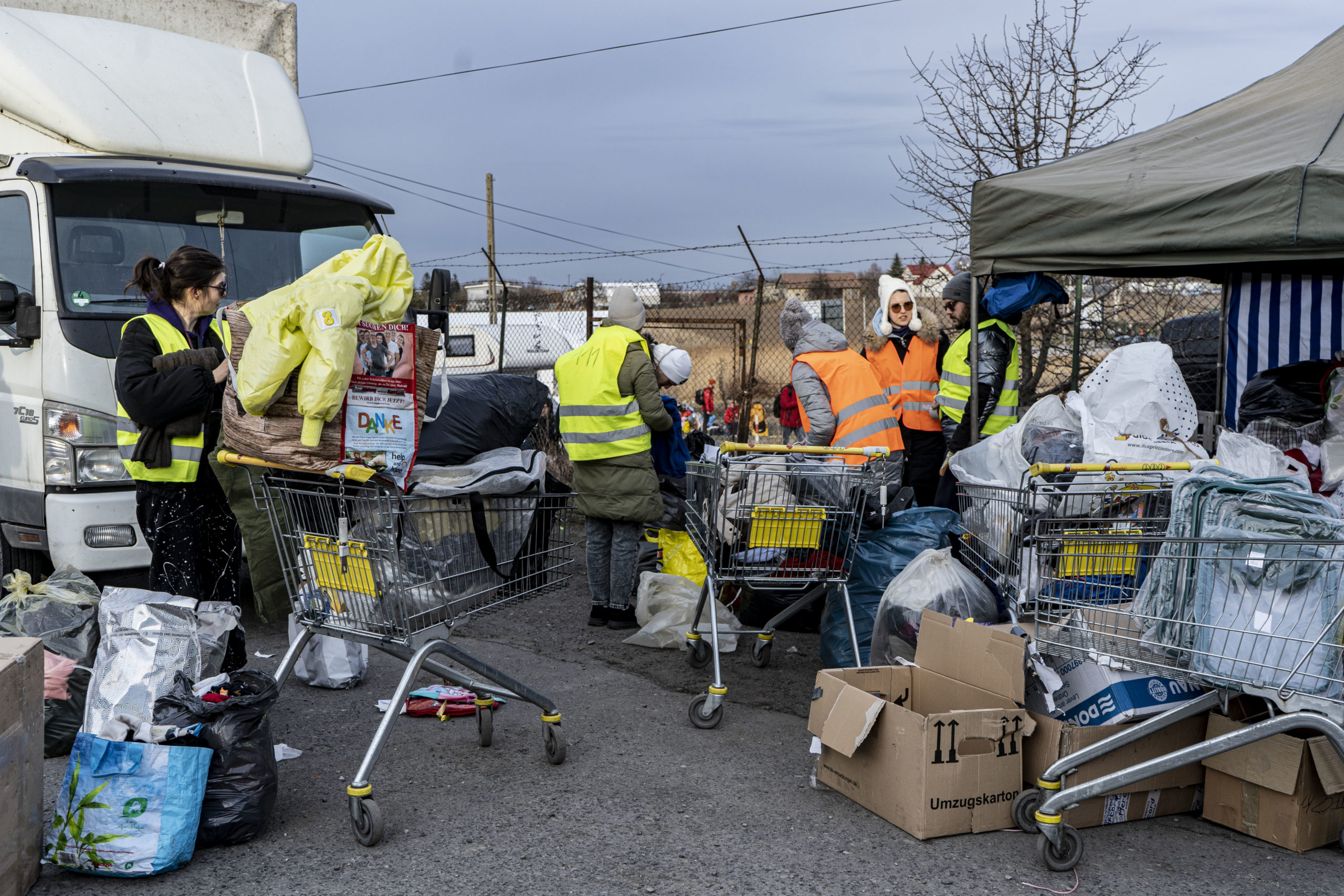 Those without relatives and friends who have reached the site must continue their journey with the many means of transport available, often private vehicles: Polish citizens who offer a ride to Przemyśl, the border railway crossing and the first town on the way to Rzeszów, and from there to other major Polish cities. 
In the border area, we have set up five aid centres," explains Konrad Fijolek, mayor of Rzeszów, "not only here in the regional capital, but also in smaller towns such as Przemyśl, where most people are gathered. We try to keep track of everyone, to make sure they are not left without assistance, especially because there are many young children who have faced very long and arduous journeys with their mothers."
The waiting rooms have become dorms, with dozens and dozens of mattresses placed side by side, blankets, water bottles, paper cups and luggage all over the place. 
Above those resting on the floor are the boards with the timetables of departing and arriving trains, including the one that crosses the two countries, which leaves from platform 5; it is no longer accessible from the main entrance to the station, but can be reached from the back, between the fenced-off spaces reserved for military and emergency vehicles, where the offices of the border police are located – who still check the passports of those leaving and especially entering Poland. Until ten days ago this was merely routine work, but today it is almost impossible to manage, in a space that nobody would ever have imagined would be needed to host thousands of people at once. As a matter of fact, passengers wait in the cold, in a queue, even for hours, until the train that has crossed the Ukrainian border and entered Europe has been completely cleared, and everyone has been registered and helped to reach the other platforms of the station, or the coach parking area. 
Once the entry procedures into Poland are over, we move on to the exit procedures, for those who are returning from Przemyśl to Ukraine, to pick up their families or to return to defend the country after securing their families. This train passes through Lviv, Ternopil, and on to Kyiv, for how much longer we do not know. The train sets off, but you never know how long it will take to get there, how long the checks will last, how many unexpected stops there will be. Igor has been brought here by a Polish friend, and now hopes to join his parents in Odessa, because they would not be able to face the journey on their own. They will return to Poland, and will be hosted by his friend, who after 20 years will return the hospitality he received when he was a young man looking for a job in Ukraine.
Cover photo, as with all the others in the article, by Ilaria Romano.