August 21, 2018
While investigations on the alleged connivances between NGOs at sea and traffickers are being dropped one by one for lack of evidence, an Italian Coast Guard ship has been waiting for six days to bring down 177 people rescued on Italian soil, in the shadow of a crash unprecedented institutional.
1. Charges against NGOs at sea about to be dropped
Antonio Massari first announced on August 11 in Il Fatto Quotidiano that according to his sources, the original investigation by the Catania prosecutor was going to be dropped because no evidence has been found of a cooperation between the NGOs and the people smugglers. A couple of days later, the prosecutor in Palermo asked to dismiss all charges of complicity with traffickers during an incident at sea in the spring of 2017 because, as Il Post titled, "The investigation into the NGOs has found nothing at all" – according to the investigators, there is no evidence against Sea Watch. In fact, NGOs are operating at sea in full compliance with the law. Two more investigations, into Sea Watch and Open Arms, had already been closed by the Palermo prosecutors back in June. Read here a summary of the investigations into the NGO as of August 14, by Nello Scavo for Avvenire.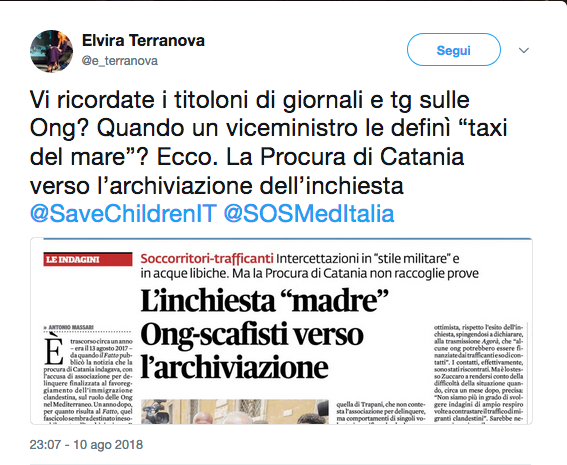 For a timeline of the events surrounding the NGOs at sea, you can find all our in-depth articles here.
2. Italian government denies docking port to Italian Coast Guard ship
The Italian Coast Guard ship Diciotti has been anchored outside the port of Lampedusa for five days because the Italian government has refused to allow it to dock. The Diciotti had rescued 190 people, 13 of whom were then disembarked in Malta due to a medical emergency. The others were not allowed to disembark, and Malta had indicated that the nearest port was Lampedusa (where, the mayor protested, the number of arrivals by sea has risen).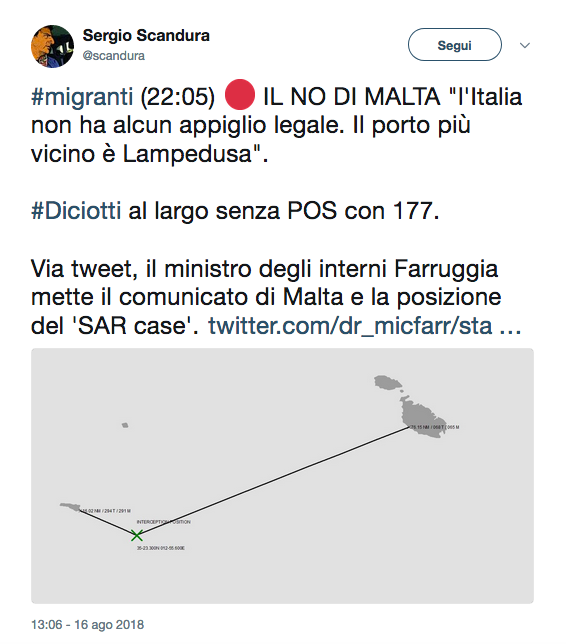 Update, Tuesday August 21: as announced in a tweet by Transport Minister Toninelli, and contradicted by Interior Minister Salvini, the ship Diciotti has docked at the port of Catania, not as a "safe haven", but only as a port of call, and it is still not allowed to disembark the rescued migrants.
Malta had recently granted docking to the Aquarius, adrift for days with more than 140 rescued migrants on board, who will be distributed across 5 countries (including Italy).
Meanwhile the incident on July 30, when the ship Asso Ventotto virtually contributed to a pushback of migrants to Libya, marked a dramatic change for cargo ships that had traditionally helped with rescue operations – read the article in Open Migration by Lorenzo Bagnoli and Francesco Floris. A group of prominent figures from civil society has written a letter asking the prosecutor in Naples to determine whether the case of the Asso Ventotto is a form of collective refoulement, forbidden by international laws.
3. Italy to donate 12 patrol boats to Libya
After a vote in favour in the Chamber of Deputies, the bill aimed at "increasing the operative capabilities of the Libyan coastal authorities" is now a law: Italy will donate 12 patrol boats to Libya, as well as more than 2.5 million euros for maintenance and training. Those who voted against the bill pointed out Libya's systematic violations of human rights. These violations were recently highlighted by the riots at the Sharie al Matar detention camp. According to Avvenire, the migrants – mostly Eritreans- fear being sold to human traffickers by the Libyan authorities.
4. EU policies to blame for surge in deaths at sea, says Amnesty International
The recent surge in deaths of refugees and migrants dying at sea or being pushed back to Libyan detention camps is a direct consequence of EU policies aiming to close the Central Mediterranean route, according to a new Amnesty International report, "Between the devil and the deep blue sea: Europe fails refugees and migrants in the Central Mediterranean". EU policies, particularly those of Italy and Malta, are to blame for their hostility toward migrant rescue ships, lowering the priorities of rescue operations and hindering vital rescue work carried out by NGOs. Also read the thoughts in the second Fact Checking by ISPI on migration, with updated data.
5. African farmworkers protest working conditions in Italy
Following the incidents and the violence against their coworkers over the last few weeks, the farmworkers mobilised by the USB union went on strike on August 7, and with the red caps they wear on the fields they marched from the former Gran Ghetto in Rignano to the prefecture in Foggia – a protest which was covered by the New York Times. Antonio Sanfrancesco wrote extensively about immigrant farmworkers in Apulia in Famiglia Cristiana, and after identifying the 12 migrants who died in the street accident of August 6, investigators are working to trace them back to their employers.
6. The USA resume deportations of migrants
There are roughly 3,000 immigrants from Mauritania in Columbus, Ohio. For years, ICE allowed even those with failed asylum claims to remain in the US, but a new documentary from The Atlantic reports that, since Donald Trump became president, people have been detained and deported. Meanwhile, thanks to large protests from civil society groups, mass family separations have ended, but many children are still in shelters, and the 572 who were never reunited with their families risk being permanently orphaned.
7. UNHCR aids return of over 2,000 Somali refugees from Yemen
The UNHCR has been trying to organise the largest possible number of  assisted returns of Somali refugees from war-torn Yemen. The vast majority of the 270,000 refugees in Yemen are Somalis. Since the programme started in 2017, the number of Somalis who have been returned to their places of origin has surpassed 2,000, with more than 1,200 this year alone.
8. Safe beaches and fake news: Salvini's summer on social media
About 20 members of CasaPound conducted a raid on the beach at Ostia to protest migrant beach vendors. The operation – which was filmed and broadcast live on social networks – resulted in a coconut seller being removed from a beach near Rome. The far-right group's stunt followed the crackdown announced by Interior Minister Salvini, who has been celebrating on social network the success of his "Safe Beaches" operation.
However, not everything went well for Salvini, who first spread the news that some refugees were protesting because they wanted Sky, then claimed that Islamic terrorists were on their way on a boat from Tunisia. Both statements were quickly debunked: the refugees in Vicenza were protesting for access to food, while the Tunisians who were charged with terrorism were not planning an attack on Italy.
9. List of refugee deaths displayed in Liverpool torn down again, Home Office refuses visas for authors invited to Edinburgh book festival
Two weeks ago, we told you about the destruction at the Liverpool art biennial of the list of the 34,361 who died in the attempt to reach Europe. When the List was put up again by Turkish artist Banu Cennetoğlu, it was torn down again. Charlotte Higgins wrote in the Guardian that the destruction of the list – which had already been displayed around the world – has a chilling significance because it had never been defaced or damaged before, and that it is particularly depressing that it should happen in Britain, where culture is the new front line. The director of the Edinburgh international book festival, which includes appearances from 900 authors around the world, warned that the "humiliating" application process would deter artists from visiting the UK. Refusals for visitor visa applications from Middle East and African countries have shot up and this year about a dozen authors have had their applications refused, under various pretexts.
10. Out of Sicily, Khaled Hosseini reminds us that refugees are still dying
Afghan writer Khaled Hosseini, author of The Kite Runner, has written a beautiful article from Sicily, pointing out that in spite of our news fatigue, refugees are still dying – unburied and nameless – and that we need stories to restore our empathy.