May 22, 2017
-
Hours and days of searching, run-ins with coast guards and people smugglers, overloaded wooden ships: increasingly frequent in the media, it's all part of an ancient history of fleeing wars, dictatorships and poverty. But acts of solidarity are also part of this story - the very lifeblood of a fragmented Europe that now is clashing (as it has in the past) with state reasons and its willingness to build barriers, and that gives us a glimpse into where the roots of the funding of many Ngos are. What follows is an historical overlook with some essential data to understand some of the controversies of the last few months.
The history of rescue operations at sea began a long time ago
"We had two search areas: Vũng Tàu and Cà Mâu, and all committee and crew members took turns watching and scanning through binoculars. […] We could only rely on our experience to identify refugee boats. As soon as we saw one, we would slow the ship down, me and a crewmember would use a canoe to approach the boat. Once there, it was my responsibility to climb onto the boat to inspect it, to calm the refugees' fear, and lead them onto the ship." This excerpt from the Vietnam Refugees Archive, a Canadian project collecting oral history, is the tale of Nguyen Huu Huan, rescued in the South China Sea in 1980, who subsequently became an interpreter aboard the Cap Anamur II – a tale that could be set in modern-day central Mediterranean.
As in the case of the Vietnamese, Laotian, and Cambodian "boat people," seeking shelter from violence and collapsing states, the impetus for solidarity in this new millennium came from images. The body of Alan Kurdi, a Syrian boy photographed in September 2015; the tragically invisible ones of April 18 of that same year (nearly 800 swallowed by the Mediterranean); and, even before that, those found on the shores of Lampedusa on October 3, 2013 and arranged in endless rows of coffins as the authorities and the survivors looked on. Just 35 years earlier, in late October, the same tragedy had struck the Hai Hong, a boat carrying 2,500 Vietnamese nationals. Refused permission to land in Indonesia and Malaysia, exhausted after weeks at sea, they touched the hearts of many in the West, which in turn convinced several countries to take them in and triggered a series of actions in civil society groups; and this, in turn, found its way to the Mediterranean.
"Un bateau pour le Vietnam" and "Ein Schiff für Vietnam"- citizen initiatives supported by intellectuals, medical professionals, and aid workers – are the closest relatives to the humanitarian fleet that has developed in the Mediterranean over the last three years. Under the influence of two former opponents, Communist philosopher Jean-Paul Sartre and liberal sociologist Raymond Aron, France would send the Île de Lumière into the South China Sea, followed by a string of military and private aid vessels in the eighties, which the governments of the time hoped would keep pirates at bay. Thanks to this commitment, soon emulated by the Germans, 120,000 refugees would reach France from the Indochinese peninsula. Sailing out in 1979, the Cap Anamur rescued thousands of people at sea, and brought some of them back to Germany. Withinn months, millions of francs and marks were gathered, as families opened their homes and businesses donated goods and services. Between 1975 and 1997, 1.6 million people were resettled in Europe and North America, and part of them owe their lives to the rescue ships funded by European citizens.
A new era of rescue operations
The Cap Anamur III, granddaughter of the first German ship, marked the end of independent rescue efforts in the Mediterranean. In 2004 it was intercepted off the coasts of Sicily and then confiscated on charges of abetting the illegal entry into Italy of the 37 migrants found on board. However, after its crew was acquitted in 2009, there was a new impulse for grass-roots humanitarian action. The end of the Mare Nostrum operation in October 2014 accelerated things.. "The winter of 2014-2015 was a sad, tragic one," recalls Sophie Beau, deputy director and founder of SOS Méditerranée, "and we felt the duty as citizens to mobilise, to make up for the failures of Europe that had left thousands to die through inaction."
The new era was ushered in by Moas (Mobile Offshore Aid Station), created by Chris Catrambone and his wife, Regina Egle Liotta, early in 2014. A brief mission in the summer of the same year was followed by others in the central Mediterranean and, occasionally, in the Aegean Sea and Bay of Bengal. Then came the turn of Doctors Without Borders with the Bourbon Argos, the Dignity I, and, currently, the Prudence. Outrage caused by the endless shipwrecks and media coverage of the refugee crisis gave birth to other non-profit organisations. The Franco-Italo-German SOS Méditerranée launched the Aquarius in February 2016. Sea Watch, Jugend Rettet, LifeBoat Minden, and Sea-Eye would deploy ships and aircrafts, followed in July 2016 by the socoristas of Catalunya's Proactiva Open Arms. The historic international humanitarian group Save The Children was the last to join them in September 2016.
By late summer 2016, 13 humanitarian ships were operating in what was technically known as a Sar, or search and rescue area. Only two of them, however, would remain active through the winter: the Aquarius and the Golfo Azzurro, manned by Proactiva Open Arms. In the spring of 2017 the ships started coming back, with nine vessels already operating by early May; 13 more are expected to join them starting next June, along with two surveillance aircraft. Nevertheless, this solidarity has its costs, and they can be very high. So much so that Catania's prosecutor Carmelo Zuccaro announced in February that an investigation would be launched to question "where all this money has come from". His sentiments were soon echoed by several political figures. Moas is a very different beast from Life Boat Minden with its 23-metre ship: while the former has spent 500,000 euros on their ship, aircraft, and infrastructure a month, the latter's monthly expenditures do not exceed 30,000 euros. The largest ships – Aquarius, Prudence, Save The Children's VOS Hestia, and lastly Golfo Azzurro – cost thousands of euros every day, and the same is true of the aircraft.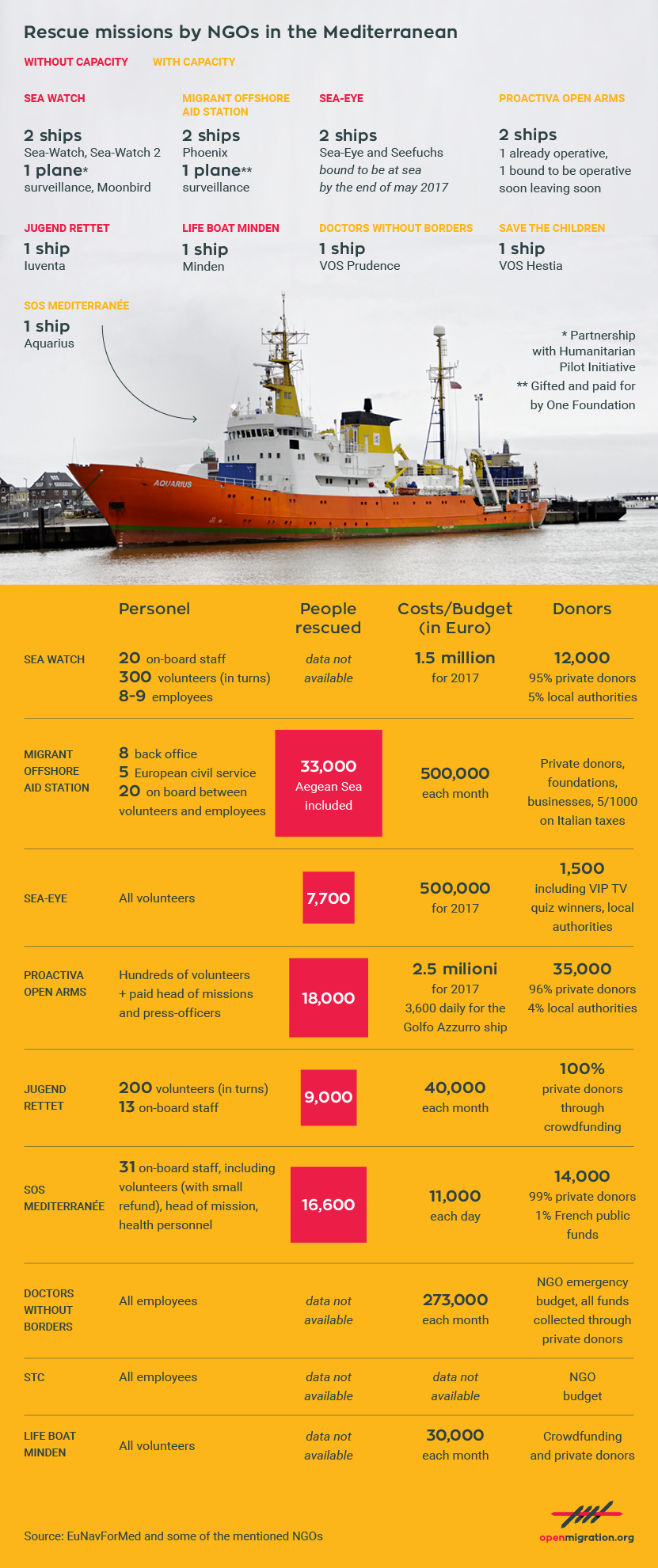 How the NGOs are funded
In response to Zuccaro's question as to "who is behind these humanitarian NGOs?" it is clear from their own statements: none other than thousands of citizens from Europe and beyond: businesses, local authorities, and churches. While Doctors Without Borders and Save The Children operate thanks to donations collected from around the world (mostly by private individuals) and channelled into sea operations – and Moas was initially financed by its own founders – the grassroots missions of recent years have relied on incessant crowdfunding. Donations are raised online – on platforms such as Better Place or directly from the NGO websites – during charity events or thanks to big donors: Richard Gere or Pep Guardiola for Proactiva Open Arms, winners of TV quiz games for Sea-Eye, ship-owners who sell their assets for reduced prices. There are 35,000 people "behind" Proactiva Open Arms, with its three small ships; 12,000 people have sponsored Sea-Watch's two vessels and the Moonrise aircraft; and 14,000 people support the Aquarius and 1,500 have funded Sea-Eye.
Such grassroots support inevitably makes missions precarious, and gives the Ngos only a few months to plan them. Another key element is the work of hundreds of volunteers. While the larger organisations have hired personnel, most of the crews on rescue ships are made up of volunteers. Sailors, lifeguards, doctors, nurses giving up their holidays for missions that can last between 13 and 21 days. "Our entire budget is completely transparent, Zuccaro could've just asked us," said Frank Dörner of Sea Watch, surprised by "accusations that insult our supporters, including 75 German parishes, kindergartens, and fundraisers at birthday parties." Jugend Rettet, created by a group of university students, explains on its website that it was actually included in the Initiative for a Transparent Civil Society thanks to the transparency of its budget.
The so-called "pull factor" and the retreat from Libyan waters
Just like in a gigantic echo chamber where Zuccaro's words have been amplified by MPs, party leaders, and journalists, the accusations against aid workers at sea have focused on possible links or contacts with smugglers and criminal networks, calling into question the very presence of rescue ships in the waters off the coasts of Libya. Even if innocent of collusion, the Ngos would still represent a "pull factor" for those seeking to leave and encourage them to take to the sea. Something which is "not demonstrable," according to Sophie Beau, "as confirmed by the high number of arrivals in early 2015, long after the Mare Nostrum operation had ended". "What might be true," a spokesperson for Doctors Without Borders told Open Migration, "is that the traffickers are exploiting the duty to rescue anyone in distress, to which all vessels, not only those of the Ngos, are subjected."
Speaking in late March before the Schengen Committee of the Italian Chamber of Deputies, Zuccaro linked the rising numbers of deaths at sea with the presence of humanitarian Ngos. "All of these charges," Lorenzo Pezzani, a researcher at Goldsmiths College in London explained, "work by abstraction, taking the data out of a complex context and thus legitimising conspiracy theories, those that see corruption everywhere." Pezzani, who co-wrote with Charles Heller Death By Rescue (a report on shipwrecks in the central Mediterranean in 2015), argued that "a change in the smugglers' tactics, with more and more overloaded rubber boats sent out to sea, had already occurred in 2015, when there were still very few Ngos; it is therefore absurd to blame them for this situation." He added that "there are many players in this game and they all influence each other. There is no truth to be gained by looking only at the NGOs without also considering the role of the Eunavfor Med mission, just to name one."
Launched by the Eu in June 2015 with the aim of fighting criminal organisations, Eunavformed Med itself declared, in a report from October 2016, that "smugglers are relying on an increasing number of Ngo rescue vessels operating close to, and sometimes within, Libyan territorial waters while Eunavfor Med maintained a deterrence effect on the high seas." It was, perhaps, a response to the criticism levelled at the mission, of being ineffective and even exercising a pull factor, even before the blame was shifted to the Ngos. In the following months it was Frontex, the European "border police", that cited incidents where smugglers had contact with Ngo ships. Riccardo Gatti of Proactiva Open Arms spoke of "a deliberate, carefully planned smear campaign to hurt those who are saving lives, like us and the Italian Coast Guard, who coordinate all rescue efforts." What seems to be at stake, judging by both the Ngos' and Eunavfor Med's statements, is something that all European governments want: the closing of the Libyan route.
"Over the last few weeks we have had more and more run-ins with the Libyan Coast Guard, apparently they're pushing further into international waters," Nicola Stalla, coordinator of rescue operations for SOS Méditerranée, explained. Jugend Rettet confirmed this: "Libyan patrol boats are being sighted further off the coast and they look better equipped than in the past." Unpredictable, violent incidents, such as the armed attack at the Doctors Without Borders ship, the capture of a Sea-Eye boat, and the assault on a migrant boat witnessed by Sea Watch aid workers seem to belong to the past. The Libyan's approach, according to Sea Watch, "has become calmer, but this doesn't make them any less unreliable as partners, split as they are into dozens of militias." An increase in activity by the Libyan Coast Guard has been supported by the numbers: the number of migrants intercepted in territorial waters and brought back to shore went from 600 in 2015 to 2,230 in the first 10 months of 2016 (according to Eunavfor Med) and to 4,841 between early January and early May 2017, according to the International Organization for Migration.
Eunavfor Med Med and Frontex assets, on the other hand, seem to be retreating. "Over Easter weekend," Ruben Neugebauer of Sea Watch recalls, "our aircraft flew over international waters and when we identified two boats about to sink, we alerted the Italian Coast Guard." There were 8,500 people attempting to cross the sea, and Neugebauer adds: "within three days, on a very wide stretch of sea, we only sighted one ship from the European mission". As with the Cap Anamur II in 1986, Western governments seem determined to close the borders. In a world frightened at that time by Reagan's arms race, 358 Vietnamese refugees were stranded for days, denied by Canada and Australia, before eventually disembarking in Hamburg after two months at sea. In the following years, a large part of the resettlement schemes was shut down, and Asian "boat people" disappeared from the media.
"There are no official European vessels with a mandate to search and rescue," Jugend Rettet's Pauline Schmidt says, "and private aid workers like us are all that are left, coordinated and supported by the Italian Coast Guard, and our role as witnesses could now interfere with the plans to push migrants back to Libya." This, according to Jugend Rettet, is the origin of the attempt to criminalise humanitarian organisations. "The real question," adds Schmidt, "is why they are targeting those who are saving lives, and not those who stand by even though they could intervene." Neugebauer goes even further: "The real scandal is not our intervention, dictated as it is by emergency, but the fact that the Eu is willing to let people die at its frontiers without sending rescue ships." If there is one thing that the Ngos are telling us, it is that we are witnessing an international and European situation that many citizens have taken to heart, one that the narrow prism of Italian politics can only distort.
Translation by Francesco Graziosi. Proof-reading by Alexander Booth.