March 9, 2022
-
On Tuesday 8 March, Filippo Grandi, the United Nations High Commissioner for Refugees, claimed that more than 2 million people have fled Ukraine, which makes the current crisis "the fastest growing crisis since World War II". Dramatic numbers, behind which lie the stories of so many women and men whose lives have changed forever. Elira Kadriu spoke to a few of them.
"Mum promised me that we wouldn't sleep in the bunker anymore, I want to sleep in my bed, I don't want to hide from the bombs".
This is the daughter of Marina Isaeva, 39. She and her mother are now safe in Wroclaw, Poland. Marina left Kyiv on 25 February, the day after the war started.
"Thanks to the help and hospitality of a Polish family, my daughter will go back to school on Tuesday", Marina told me. When I asked her whether the new language would be a problem, she explained that Ukrainian and Polish are quite similar and that the children adapt quickly.
Marina's husband, though, could not escape with them as he had joined the Ukrainian armed forces.
"I don't know where he is and what he is doing. I talk to him on Telegram, a few minutes in the morning and a few minutes in the evening, sometimes I show him the baby on camera. I talk, he listens, that's about it. He's not allowed to tell me anything," he explains.
When she heard the first explosion, they lived in a flat on the 16th floor in the eastern part of Kyiv, near the Dnipro River, Marina says.
"After hearing the sound of the first bombings, I took my daughter and spent the first night in the bunker. My in-laws did not come with us because they kept insisting that it was nothing serious. During the night I looked at my daughter and realised that she was very scared. I went with my intuition, my instinct. That's when I decided that I would leave Kyiv at dawn".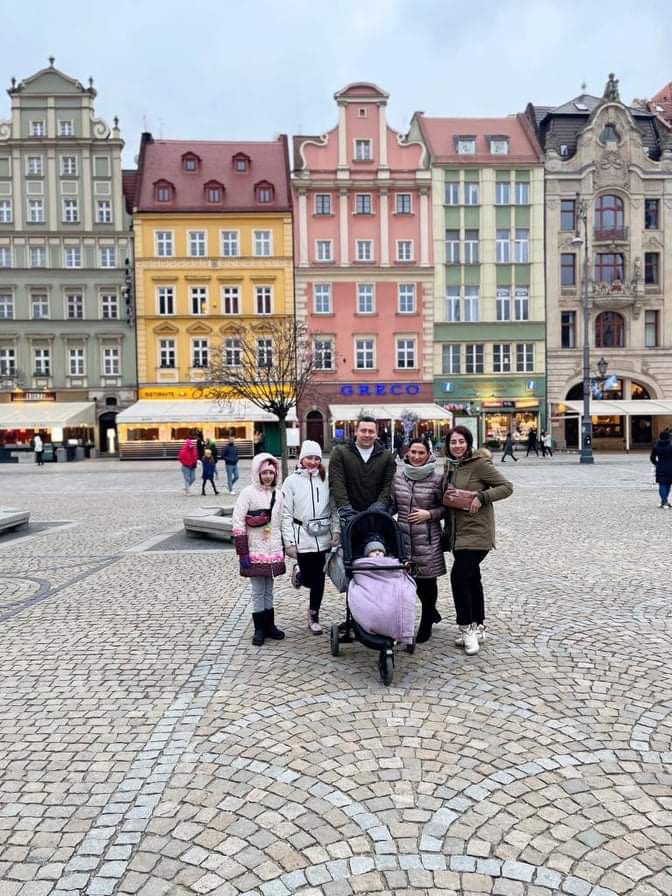 Marina safe in Poland
Marina travelled from Kyiv to Lviv with only 20 hryvnias in her pockets. Due to problems with the banking system, she could no longer withdraw cash from her card. After a night in the bunker in Kyiv, Marina spent a second night in a bunker in Lviv. From there she travelled by train to the Polish border, where she finally felt safe.
"As soon as the train stopped, the Poles started to pass food, clothes, hygiene products, toys, and shoes through the windows. During this period, many relatives turned into strangers, while many strangers whom I would never have known if the war had not broken out, turned into relatives. I will be forever grateful to them,' Marina concluded. 
Tanja Bondarchuk also managed to escape the war and reach Romania with her 2-year-old child. Prior to February 24th, she lived in Irpin and was a baker.
"I was scared to death when the explosions began and the whole house was shaking. I had no place to hide with the baby because we don't have a basement. I didn't sleep for two days in a row".
She confessed to having made the decision to leave after hearing the massive explosions at Gostomel airport, which is close to her home. Tanja travelled alone with her child for five hours to the town of Zhytomyr where her husband's family lives. Then, she was accompanied to Chmelnitsky by her father-in-law.
"My husband was in the United States on business and came directly to Romania, to the house of some friends where we are temporarily staying. He chose to stay close to his family and to not go to war,' she explained.
The only people allowed to cross the Ukrainian border are migrants. Juan Victor Aguilar, 37, moved from Peru with his family to Krakow, Poland. He lived with his Ukrainian wife and their son in Rivne for five years.
"It took me a long time to cross the border, because the land area between Ukraine and Poland is a hell. There are three checkpoints and each crossing takes at least two days," he explained.
On the other side of the border there are Poles waiting for the refugees and driving them to any city they want to move to. Some also offer rides to the Czech Republic, Romania, Hungary or wherever else they want to go.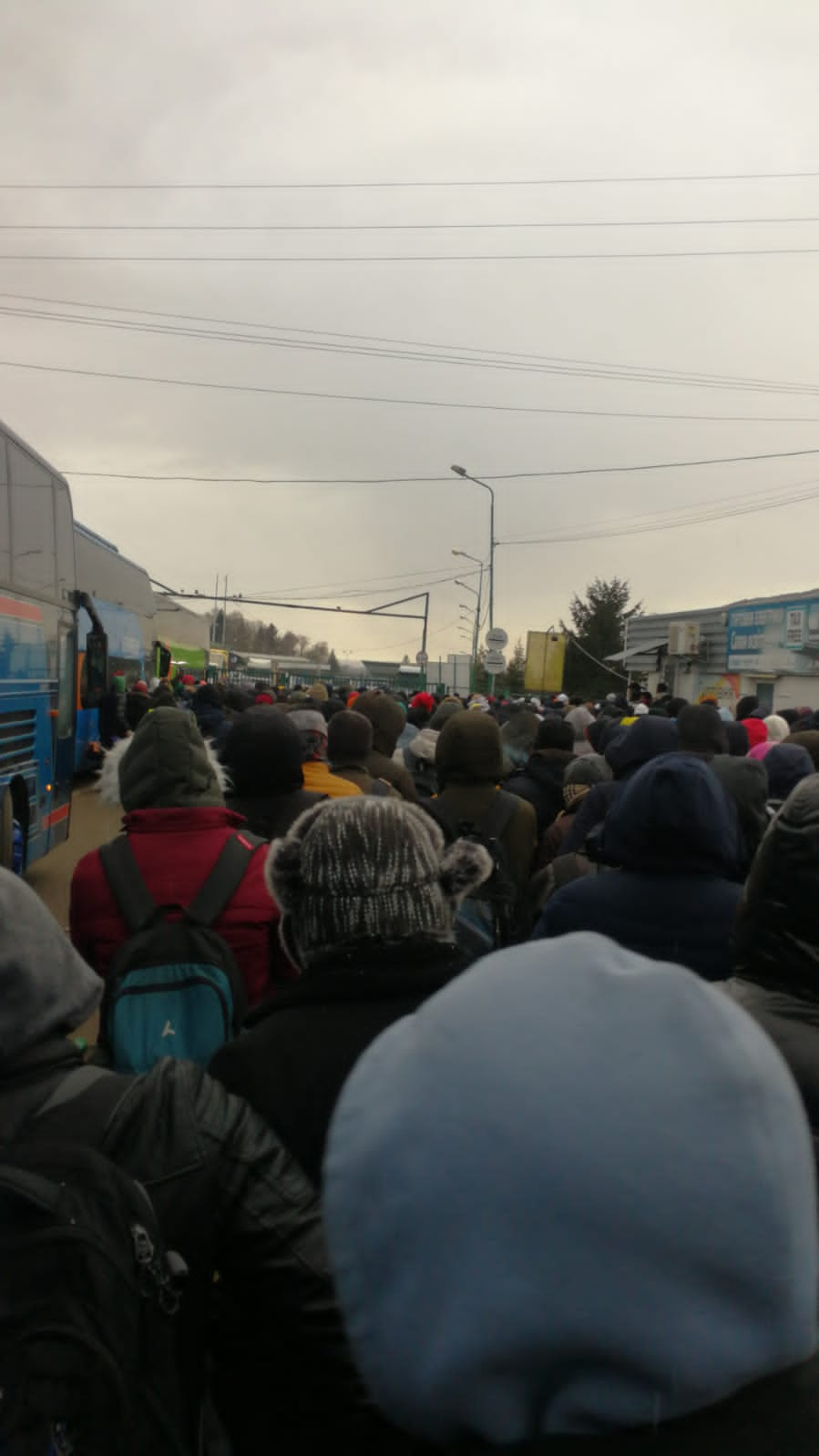 The Ukrainian-Polish border
"We are now considering staying here, but if we apply for refugee status it will be hard to find a job. The alternative option is to move to Peru, which is my home country, where I would have more opportunities, but the idea is to go back to Ukraine as soon as possible and I don't know if it is worth moving so far away.
Juan still believes in peace and reconstruction:
'I haven't lost hope, everything can be rebuilt, but I can't deny that it was a big shock. It will definitely take a long time to recover,' he concluded.
Cover: train journey while fleeing Kyiv. All photos in the article were authorised by the interviewees.